Yahoo launches new Summly-powered app for Android -- reviewers say it sucks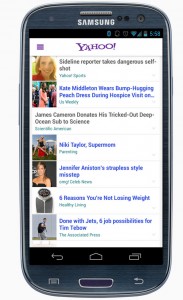 Under Marissa Mayer, Yahoo has started to really embrace mobile, rolling out a succession of apps. That run continues today, with the launch of a new Yahoo app for Android.
Available now, the app delivers a stream of short news summaries with images, to give you the gist of something. If you have the time you can then read the full article at your leisure. You can personalize the content you see by scrolling to the end of each story, and ticking the topics you like, and removing those you're not interested in. Your preferences are maintained across all of the devices you use. Yahoo says: "The more you use the app, the more relevant stories you'll start to see".
The web, image and video search tabs have been revamped in the new app and, as you'd expect, you can share stories via email, Facebook and Twitter. I'd give you my personal thoughts on the app, but it's not currently available to install in the UK, which is a tad ironic given it's powered by Summly, an app created by a British teenager.
Reviews of the new app added today haven't been very kind so far. Matt Johnson says:
Ever since the update this app just gets worse and worse. It's slow, hard to use and half the news is irrelevant...
A Google User comments:
This app continues to amaze me for how difficult it is to maintain a consistent format. One day it does one thing, the next another. The worst thing you can do with this app is download an update. The latest one removed the ability to check your email and has a visually awful news display. The creative types at Yahoo seem to have no regard for what the viewer might actually want. You people aren't artists. You're hacks who think you have an ounce of creativity. You don't. Goodbye Yahoo.
Mark Edwards agrees:
Yahoo seems to have this problem with their new apps. Just like their mail app, this one looks pretty and is visually more comfortable to use than the previous app, however it just doesn't work well. It's missing the ability to resize text, it displays things that are clearly not asked for in the Preferences, and it does a terrible, I mean really terrible, job of sharing. Yahoo has very little chance of regaining its former glory if they keep releasing second rate apps.
There are some positive reviews though, but not many. If you've tried it out, let me know your experience in the comments below.
You can download Yahoo for Android from Google Play.