So what's next for Microsoft's Bing? [Q&A]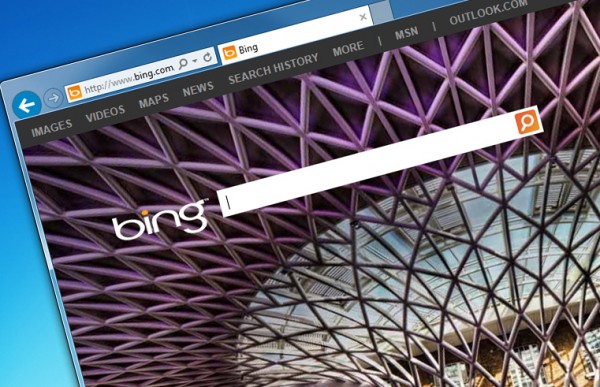 I've been using Bing as my primary search engine for nearly two months now, and I like it. While I personally think it still lags behind Google in some areas, it's definitely improving. It delivers decent results, offers some great features and does an excellent job of integrating social sources like Facebook and Twitter.
I chatted with Bill Hankes, a director at Bing, to find out more about the service and the division's future plans, and also asked him about that divisive Scroogled campaign...
BN: How does Microsoft see Bing as different from Google? What do you think you do better?
BH: Bing was designed to help people go from searching and finding to searching and doing. This focus on "getting things done" means that we're investing heavily in three key areas: relevance of traditional search results, e.g., ten blue links; adding information beyond ten blue links to help people understand the world around them; and then bringing search results to life across different interaction modalities appropriate for different devices and platforms, like phones and tablets.
More relevant and organized web results: The bedrock of modern search remains core algorithmic relevance, and beautiful, relevant "algo" results should be the first thing people see. We've tuned Bing to make the entire page easier to scan, removing unnecessary distractions, and making the overall experience more predictable and useful. This refreshed design helps people do more with search. We've also made significant strides in relevance; in fact, our research shows Bing results are as good or better than the competition.
Understand the world around you: Bing helps you understand the people, places and things around you, all of which have unique attributes and relationships to each other. In Bing's center "snapshot" column, we present a view of these entities so that people gain the understanding they are looking for at a glance, rather than having to jump in and out of blue links to assemble the requisite knowledge.
Cross-device. How you execute searches can and should vary across different kinds of devices that aren't traditional PCs. It's just not practical, or safe in some cases, to type or use a keyboard when you're sitting in the living room, or driving or walking down the street. That's why Bing has been working to advance the state of the art in understanding voice, gestures, touch and images -- essentially the inputs that represent intent to help with query understanding. Things we traditionally might otherwise try and type into a search box. One of the best demonstrations of this new interface thinking is the voice technology used with Xbox and Kinect. Voice commands are used as the equivalent of search box queries to access data: information about music, movies and more. Today, using Bing's technology, Xbox users can ask for a list of action movies, or Woody Allen movies, or music by artist or genre. This same voice technology, by the way, is available on Windows Phones to help people not only access search information, but also access information on their phones like contact information or applications, e.g., "start Netflix". Just as important is contextual understanding -- understanding what people likely want based on location and their friends' interests. Windows Phone's "Local Scout" and "For You" features allow people to find food and drink, shopping, and things to do based on where a person is on the map and what their friends like. Similarly, Bing is the underlying service for a set of pre-installed apps on Windows 8 that let users gain access to rich data on travel, weather, news, finance and other common interest areas. In the touch and tablet world, typing isn't always as easy, so the means by which people ask for information and then interact with it has been built in to provide a graphically rich and touch optimized experience.
BN: What features are you most proud or excited about?
BH: The two areas I'm most excited about are Social Search and Mobile Search. We all know how family and friends help us make decisions on everything from restaurant recommendations to camera purchases. Bing has started to infuse that same knowledge from your Facebook friends, and other social networks like Foursquare and Quora, directly into the search results page. This is a relatively new area in search, but given the sheer volume of data being created on social networks today, we feel compelled to help people tap into this information for the benefit of their Bing searches. On the mobile front, or rather the non-PC front, we are entering an era of search that more closely resembles Star Trek than our traditional means of engaging a search box. We can now ask our phones and Xboxes for directions and information. We can use our tablets and phones to scan book titles and barcodes. We can engage in serendipitous search experiences with apps that are focused on rich travel and maps experiences, for example. The pace of innovation in this area of search is amazing.
BN: Bing does a great job of integrating social sites. What services do you include, and any future plans you can reveal?
BH: As I've said before, Bing is partnering with industry leaders such as Facebook, Twitter, Quora, Klout, Foursquare, and LinkedIn to help personalize results and make search more of a two-way conversation through the sidebar. We really think Social is increasingly important because for every search query there is someone who can be helpful. Naturally, we'll keep you posted on any future updates.
BN: Bing recently updated the Windows 8 app, adding lots of welcome improvements. Was the feeds addition in response to Google Reader's imminent closure (and will we see a Bing Reader?)
BH: No, the Bing News app RSS feeds were well into development by the time Google made its announcement. The addition of feeds were a natural extension of what we set out to do with the News app, which was to deliver a visually immersive, information rich app that makes it easy for people to stay up-to-date on what's happening in the world.
BN: Will Bing introduce a similar feature to Google's Authorship program which recognizes writers for stories in search?
BH: We already have. Bing's Author pages offer consumers additional information on news experts and include rich content from their Twitter feed, and news articles from that author in the search results. To find an author, you can go to Bing News and then enter "Author:" in the search bar, followed by the name of the author you're searching. Additionally, News Experts show up in the Sidebar so when you search for a topic which they are considered an expert about, you can tap in to their knowledge by easily seeing their social activity and with one click go to their Author page on Bing News.
BN: What's the biggest obstacle in getting users of other search engines to switch to Bing?
BH: It takes more than just better search results to compel a change in consumers' habits; it requires a truly different approach. From the outset, our goal with Bing has been to create a product that reflects the needs of today's searchers. We feel our unique approach will be attractive to consumers because it provides social context to search without compromising the organic results -- ultimately helping people do more. We have seen some success already, but we have a lot more work to do.
BN: Bing generally delivers far fewer results than Google. For example, a search for Game of Thrones on Google brings up about 858,000,000 results. In Bing there's "just" 23,200,000. Does this impact on your ability to present users with the best results?
BH: This doesn't impact our ability to provide the best results. We've made significant strides in relevance and have conducted research studies, which show we are every bit as good, if not better, than our competition. Bing views search as more than ten or even a million blue links, which is why we've introduced things like snapshot to give people a quick, at a glance view so they can actually take action instead of wading through more results. And frankly, if you don't find what you're looking for in the first 23 million results, there is something wrong.
BN: Why are certain features -- like the ability to sort results by time period -- only available in the US (and will that particular feature be coming to the UK)?
BH: We hope to expand our offerings globally and will announce more details when available.
BN: What do you think of the recent report that Bing searches throw up more malware sites than Google?
BH: As we made clear in our blog post on the matter, AV-TEST's study doesn't represent the true Bing experience. The conclusions many have drawn from the study are wrong because AV-TEST didn't actually do any searching on bing.com. They used a Bing API to execute a number of queries and downloaded the result to their system for further analysis. By using the API instead of the user interface, AV-TEST bypassed our warning system designed to keep customers from being harmed by malware. Bing does prevent customers from clicking on malware infected sites by disabling the link on the results page and showing a message to stop people from going to the site.
BN: When will there be Bing Now and meaningful voice search?
BH: We have a meaningful voice search experience already. Voice recognition is an important space we're focusing on, both within the Bing team and across Microsoft, as exemplified by Bing Voice search on Windows Phone and Bing on Xbox. But, voice is just one interesting area. We're also investing in areas like gesture and touch, but we don't have any additional new details to share at this time.
BN: Who came up with Scroogled and how successful is it?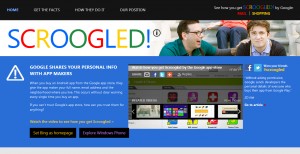 BH: The Scroogled campaigns are a team effort. The goal of Scroogled is to spark a conversation and raise awareness of Google's practices with regard to consumer privacy, what they do with the information they get from people, and to ensure consumers know what's happening to their privacy when using Google's services. Consumers and advocacy groups have made it clear they have concerns, and millions of people have visited the Scroogled website. We've been pleased with the response so far.
BN: What's next for Bing?
BH: The world is changing and people expect search to keep up. People aren't simply sitting at their desks, typing queries into a search box -- they're on their phones, in applications and on the go. They are constantly looking for data and information to help them get things done. Today we're at the tip of the iceberg of what will be possible with search, and we believe Microsoft is the company best equipped to deliver a long term solution.