No new Nexus, but how about a Google branded Galaxy S4?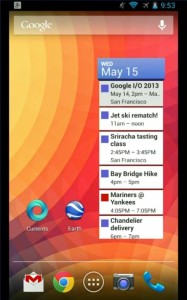 One thing that surrounds Google I/O is rumors -- almost as much as an Apple event. We have heard of an X phone from Motorola, we have seen a possible Nexus 5 from LG, and the latest is a Google branded version of the new Samsung Galaxy S4. So which one is the winner in this strange sweepstakes?
The latest rumor turns out to be the most accurate, as Google unveils its own flavor of the Samsung Galaxy S4. The Android maker is taking the new darling of the smartphone market and making it a Nexus phone, just not in name.
The S4 will run the latest version of Android and Google promises it will receive prompt updates whenever an updated version of the mobile operating system is released. The Google S4 will be sold directly through the Play store beginning June 26. The 16 GB model will be LTE, compatible with AT&T and T-Mobile and comes unlocked and with an unlocked bootloader.
Pricing manages to generate a few groans from the I/O audience, as $649 is considerably more than a Nexus 4, but customers can likely look at the lack of a contract as a way of off-setting the cost, and the Galaxy S4 is certainly a step up.