IObit releases Malware Fighter 2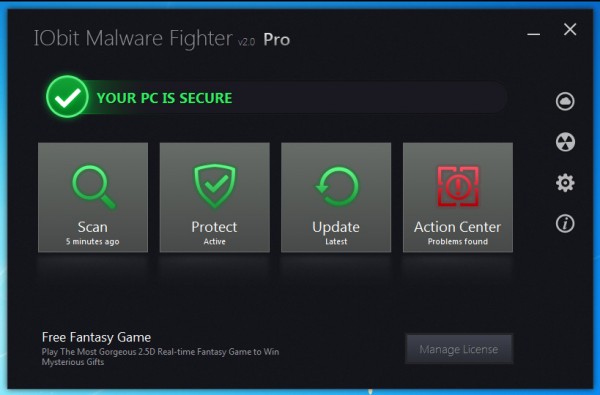 IObit has announced the public availability of IObit Malware Fighter 2.0, the next generation of its popular anti-malware tool.
The most obvious change this time is the move to a Windows 8-style interface: large tiles, stark black background, and everything happening in a single window, rather than separate dialogs. It looks good, and is easy to use.
Beneath the surface, IObit say the program now includes a "groundbreaking 'Dual-Core' anti-malware engine", which provides "deeper scanning, detection and comprehensive real-time protection".
If you're more interested in improvements you can actually see, then there's a new Cloud Security option, which makes it very easy to run a check on suspicious files. In a click or two you can have Malware Fighter 2.0 uploading a file to the IObit Cloud, an "advanced automated threat analysis system". A browser window then opens to display its verdict.
The program has a greater focus on ease of use, too. A quick install option helps to accelerate the setup process; the revamped interface is a real improvement; and even if a scan reveals plenty of problems, the new "Fix All" button will resolve them all in a single click.
And IObit Malware Fighter 2.0 apparently now offers "full support for Windows 8". If you're running a previous version on Windows 8 already then you might wonder what you've been missing, but still, this has to be good news.
Is there a radical change here? The interface looks good and worked well, at least for us, but the key here will be the new engine, and whether it can deliver the benefits IObit claims. We'll have to see how that works out.
IObit Malware Fighter 2.0 remains compact and relatively lightweight, though, and happily ran alongside other security tools on our test PC, without the slightest conflict. If you're an IObit fan then it's worth a look.