Disk Sorter Free can tell you what's tying up all your hard drive space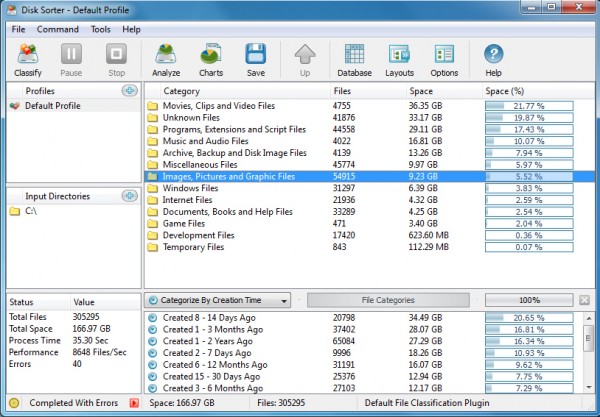 PC storage space is cheap these days, and if you've just bought one of the latest 4TB drives then the chances are you won't be worried about filling it any time soon.
It's still important not to waste hard drive space, of course: the more clutter you have, the longer your file searches, virus scans, defrags and other system-wide operations will take. Understanding what's stored on your hard drive is  a key part of PC maintenance, then, and Disk Sorter Free could be the ideal program to help.
As with many similar programs, Disk Sorter Free first allows you to specify a number of Input Directories (the folder trees you'd like to analyze). You can point the program at drives (C:\), folders of particular interest (C:\Users\MyName), or any combination of these, up to the limits of the free version (500,000 files, 2TB storage capacity).
Click Classify > Classify and the program will go to work, quickly scanning your drive and organizing its contents into several common categories: "Movies…", "Programs…", "Music…", "Archive…", "Images…" and so on. These are sorted according to the amount of space they take up on your drive, and double-clicking any category will drill down to help you find out more.
By default, for instance, if you've double-clicked the "Movies" category then you'll see a further list of file types, again sorted by size. If this reveals that, say, half the space is taken up by MKV files, then you can double-click "MKV" in turn to see exactly what and where those videos are.
Disk Sorter doesn't have to organize its reports by extension, though. The program can also categorize your files by size, an easy way to identify particular groups (zero-length files, anything more than 1GB in size, and so on). And it can also classify files by creation, modification or last access date, handy if (for instance) you need to pick out files which have been created recently.
The reporting is useful enough, but Disk Sorter goes even further. If you do manage to find a group of files which you don't need, just select and right-click this, and you'll find options to delete or compress your files, copy or move them elsewhere, and more.
There are also some annoyances here. The filtering system is less than intuitive, for instance, and we had to play around with the program for some time before we figured out what's going on. And if you choose an option which isn't available in this free build (which happens a lot, at least initially) then you'll quickly become very familiar with the "you can't do that, would you like to upgrade?" dialog.
Disk Sorter remains an unusually powerful tool for classifying, categorizing and reporting on your files, though, and if you really need an in-depth understanding of the contents of your hard drive then we'd give it a try.