Hornil StylePix is a powerful yet easy-to-use free image editor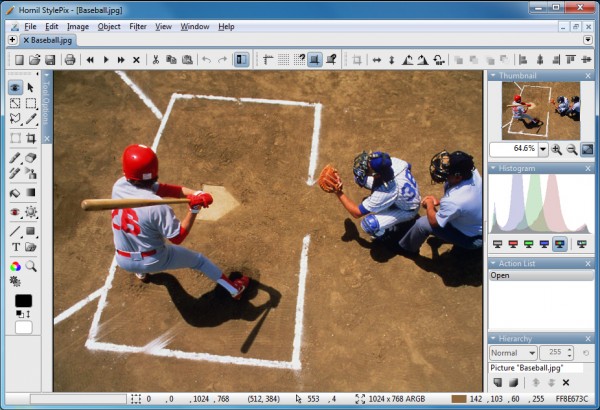 Designing a great image editor has always been a tricky balancing act. It's important that the program has real power, plenty of useful functionality, and delivers more than you'd expect in every area. But at the same time, it should ideally be lightweight, easy to use, the kind of tool you can be using productively in just a few minutes.
Most image editors fall short in at least one area, of course, but there are occasional exceptions. And Hornil StylePix is a great example. This lightweight and portable program concentrates on the core editing essentials -- transforms, color and image corrections, painting, text tools and more -- so isn't weighed down with functions you'll never need. But the features you do get are very well implemented, with a host of powerful options helping to deliver far more control than you might expect from a free tool.
Just launch the program and clues to its extra functionality are immediately obvious. There are bulky toolbars top and left, a thumbnail browser, multiple panels and some very lengthy menus, and browsing these reveals extra capabilities everywhere you look (the Filter menu has 13 entries, for instance, and clicking the Color option alone provides another 18).
This doesn't mean StylePix is complex, though. The interface is generally well designed, and in our experience the program's extra features don't get in your way. If you're in a hurry then you can carry out all the usual basic edits -- crop, resize, rotate, color tweaks, brightness and contrast correction, text and annotation options -- just as quickly as with anything else.
Life gets more interesting when you move beyond the basics, though, because StylePix just has so much to offer. So if you just want to draw a line on a photo, say, then you could simply click the Line button and drag your mouse across the image. But you can also customize this by choosing the line type (straight or curve), the color (solids, presets, gradients and more), width, alpha blend, blending mode and a whole lot more.
Similarly, if you need to add a caption to an image then you could just select the Text tool, click on the photo and start typing. But if you need more, then you can choose your preferred typeface, its size, width, kerning or tracking, paragraph alignment and so on. Once you've defined your caption, then it's added as a vector, which means you're able to reposition and resize it to suit your needs. And if you want to edit that caption later, it's not a problem – click it, select whatever you want to change -- right down to individual characters -- and you can resize that, change color or generally tweak whatever you like, without affecting anything else.
The program is just as comprehensive elsewhere (selection types include auto selection, color range, rectangular region, circular region, lasso region, polygonal region, layer selection, channel selection and quick mask, for instance), and StylePix also includes plenty of features to help keep this manageable. The Batch Processing option, for instance, combines multiple actions to speed up operations, so for example you can add several layers (including watermarks) to a set of images in a single operation.
If there's one area where StylePix is a little underpowered, it's probably in the program's file format support. It can open the standard file types (JPG, PNG, GIF, TIFF and so on), plus a few less common extras (ICO, WMF), but there's no support for RAW or PSD files.
Otherwise, though, Hornil StylePix works very well, delivering a host of editing, selection, drawing and annotation tools in a straightforward and easy-to-use interface. Give it a try.