Internet Explorer Q&A: The 'browser you loved to hate' is making a comeback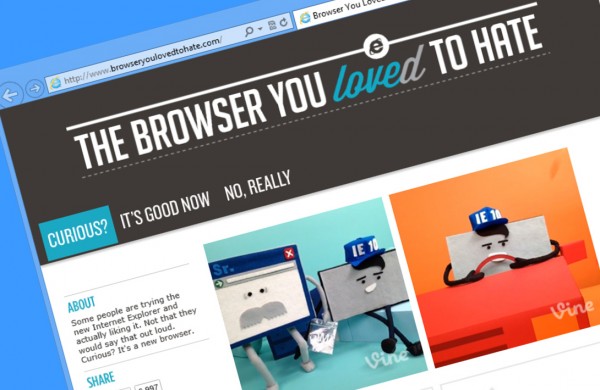 Internet Explorer's tight integration into Windows 8, coupled with the fact that IE10 is actually pretty good, means the veteran browser is enjoying something of a resurgence these days. Humorous advertising poking fun at the browser's past (while distancing itself from it) has also encouraged many ex-users to take a fresh look.
I chatted with Internet Explorer's Marketing Manager Rebecca Wolff about the "Browser you loved to hate" campaign, asked her what major changes we can expect to see in IE11, and found out why embracing web standards is now a major priority for Microsoft.
BN: Has the "Browser you loved to hate" campaign changed public opinion of Internet Explorer?
RW: We've seen some great feedback from the community on the campaign and our videos like "Do you know this guy?" and "Child of the 90s." In a little over a year since we launched the campaign, we've had over 35 million total video views worldwide, so we know we're reaching some new users and reconnecting with some old ones, hopefully piquing their interest about the entirely new Internet Explorer. IE has been posting some of its highest share numbers in years the past few months, so that's pretty encouraging too.
BN: Are there any areas where you know you can be doing better?
RW: When it comes to the web, it can never be fast enough and safe enough, so even where we're leading in performance like hardware accelerated graphics and malware protection with SmartScreen, we know we'll just keep investing. We see touch performance as the new measuring stick for fast, so we hold the bar very high for what great touch performance for the real web means -- pages that pan and zoom with buttery smoothness and a user experience that really embraces the great capabilities of new mobile touch devices like Surface.
BN: Any major changes to look forward to IE11?
RW: We don't have any additional information on future versions of IE or Windows to share today, but suffice it to say it's going to build on a lot of the great work we did with IE10. Of course, if you want just a little hint, there's always this Vine…
BN: Do you have any idea of how the browser is being used in Windows 8 -- by which I mean, what percentage are using the Modern UI version vs. desktop.
RW: We're getting great feedback from our customers on both experiences, and the immersive experience in the Windows 8 UI is getting particularly high marks from people for things like gaming, watching movies or reading web content. People also tell us how much they like multi-tasking with it -- snapping a web page alongside another app, for example. We don't typically provide percentage breakouts for usage, but our internal telemetry from millions of Windows 8 users through the opt-in customer experience program shows that tablet users spend the majority of their browsing time in the Windows 8 UI, which is great since we built the modern IE10 experience to be perfect for touch on a tablet.
BN: What are the challenges of developing two versions of the same browser?
RW: IE is one browser -- one HTML5 engine, one JavaScript engine, one networking stack -- with user experiences that are optimized for both the immersive, touch-first Windows 8 UI and the Windows desktop. We have a point of view that your experience of the web shouldn't be compromised on modern touch devices. Getting the touch experience right, with great touch performance for the real web, with pages that pan and zoom, a really fluid feel and a user experience that fully respects the needs of new mobile touch devices; that's a challenge. The team wrote a blog on that recently that's worth a read since it talks about some of the things we did to make sure the touch experience was really great.
BN: What kind of innovations will we see in future versions of Internet Explorer?
RW: We don't have any specific information on future versions of IE to share, but touch will continue to be a big area of focus for us. As more and more touch devices come to market, we want to keep raising the bar on responsiveness and the best ways to experience web browsing on modern, touch devices.
BN: Will we get to see the Chrome and Windows 8 style login and sync feature added to IE?
RW: Again, we can't speak to any new features coming to future versions of IE just yet, but I think our customers are going to like what they see. We do currently sync your IE Favorites (or bookmarks), Pinned Sites, and browser history across Windows 8 PCs that are connected to your Microsoft Account.
BN: Why can't newer versions of IE run on Windows XP?
RW: Starting with IE9, we started to really take advantage of both a modern OS like Windows 7 and modern PC hardware -- tapping into things like the GPU with hardware acceleration. With both IE9 and IE10, we want to ensure users have the best possible experience, which means being on modern hardware with a modern OS -- so that we can offer features like hardware accelerated HTML5.
BN: Why the sudden interest in HTML5 and other assorted open web standards?
RW: We know all too well about the issues of a single browser ecosystem and the barriers that creates for innovation. We don't want to go down that road again and so we really started to change things up with IE9. That was a significant release for us in terms of showing our commitment to supporting web standards, and we continued that with IE10, which has a 60 percent increase in supported modern web standards. We've also doing more to help developers write cross-browser and cross-platform with tools and resources like modern.IE, and providing examples -- including code samples -- of what can be done on the web through experiences like the The Hunger Games Explorer and Contre Jour. This will continue to be a huge focus for us moving forward too.
BN: Any features you admire in other browsers?
RW: We've been pushing support for modern web standards and interoperability across all browsers for some time now. It's great to see the continued development to these standards and the specs that come out from standards bodies like the W3C from the folks at Google, Mozilla, Apple and Opera. You may have seen this recently with the cross-platform pointer events work. With this common goal of having the same markup run across all browsers, web developers can spend less time worrying about coding to a particular browser and instead spend more time building great web sites and web experiences. I'd also give a shout out to Mozilla's efforts around privacy and how there are trying to better protect users online with privacy protections in Firefox.