Spy on the world's web searches with a Google Trends screensaver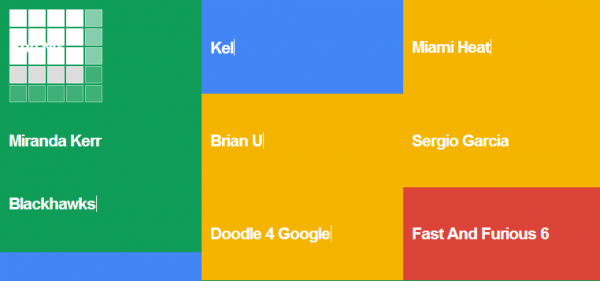 Google is all about searching. Well… not "all" about, but it's what the company is known for. Any firm that logs information about how customers are using its services are usually berated, but Google Trends can provide a fascinating insight into how the rest of the world is using the internet. This tool has been available for a while but there's now a sexy new full screen mode available -- and you can turn it into a screensaver.
If you've ever been curious about what people in other parts of the world are searching for, head over to the full screen visualization tool and you can find out. At the bottom of the screen you can choose from one of several countries, or opt to see an overview of global searches.
By default you'll be shown a single search at a time, displayed on a background in one of Google's four colors. Want to see more? Whizz your mouse up to the upper left of the page and hover over the 3x3 grid icon that appears. In the popup you can then select a number of search tiles that should be displayed -- each shows a different search term, and the display can become quite mesmerizing.
As you change country and tile options, you may well notice that the URL in the address bar changes. Each setting change results in a unique URL, and this can be exploited to turn Google Trends into a rainbow search screensaver. When you've chosen a view you like, copy the address to the clipboard.
Turning a web address into a screensaver isn't something that's built into Windows, but there's a great free screensaver tool hosted on Google Projects. Download a copy of Web Page Screensaver (it's free), and move the .scr file to C:\Windows\System32.
The screensaver can then be configured from the Display Control Panel -- right-click the desktop and select Personalize before clicking the Screen Saver icon at the lower right of the window. Select Web-Page-Screensaver from the drop down menu, click Settings and paste the URL you copied earlier.
Now when your computer is idle, global web searches will be displayed on your screen. It's hardly an incentive to get on with work, but it looks cool and is an interesting way to keep up with what's happening in the world.
There are various other search visualization options available on the Google Trends page.