UK Sky apps hacked -- uninstall immediately!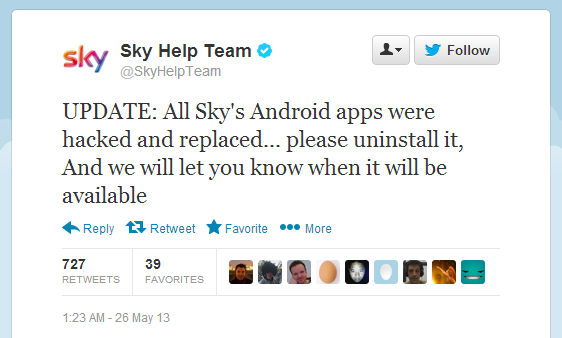 It may be a national holiday weekend in the UK, marked with a traditional barbecue and a couple too many beers, but hackers are not taking a break. Broadcaster and news outlet Sky is apparently reporting that all of its Android apps have been compromised and users are advised to remove them immediately.
Google Play listings for Sky Go, Sky+, SKY WiFi, and Sky News are said to have been tampered with and make reference to the Syrian Electronic Army. The hack appears to have been pushed out via a series of forced updates and the fact that the app listings were tampered with in such an obvious way means that this was an attack designed to be noticed.
At this stage there are no details about exactly what threat is posed by the apps, if any, although at the time of writing, all Sky apps have been removed from Google Play while the comprise is addressed.
Although the word direct from Sky's Help Team, delivered via Twitter is to uninstall any Sky apps you may currently be using and keep an eye on the @SkyHelpTeam Twitter feed for updates, it appears as if the broadcaster's Twitter feed was hacked as well and the advice to uninstall the apps might not have come from Sky.
There seems to be a lot of confusion around at the moment, but it certainly won't hurt to uninstall any Sky apps temporarily until the situation is resolved.