Google takes business photos on vacation to Europe and Asia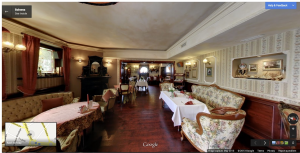 If you have ever searched for a business on Google, you'll have noted some have images available -- carefully staged ones of course. These are especially popular with hotels and restaurants who wish to portray their establishments in the best light.
Google's Business Photos program makes this possible by letting firms hire one of the Trusted Photographers or Agencies to grab the images and get them up online. The service uses Google Street View technology to create panoramic images from the photo shoot and upload them. These results can be found on Google.com, Google Maps, Google Maps for Mobile and on the Google+ page or Places for Business listing. Photographers can also sign up to become 'Google verified'.
"The Business Photos program enables merchants to create 360-degree, interactive tours of their establishments. This imagery is published on Google so potential customers can look inside and explore businesses before they go", Deborah Schenker, Program Manager for Google Business Photos explains.
It's clearly popular as from today the search giant is expanding the program globally with seven new countries, spread out across both Europe and Asia. New nations include Belgium. Czech Republic, Germany, Poland, Russia, Singapore and Switzerland. You can find out more on the Business Photos page.