Shazam app finally supports Windows Phone 8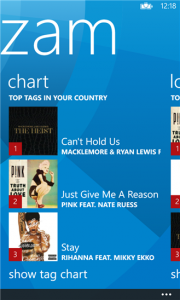 On Thursday, music discovery service Shazam released an update for its Windows Phone app which introduces support for the latest version of the tiled operating system. In addition to finally playing well with Windows Phone 8, the app also comes with a refreshed user interface and a couple of new features and improvements.
"We are incredibly excited about this launch as it brings so many of Shazam's key features to Windows Phone 8 fans", says Shazam's Daniel Danker. "Windows Phone 8 users now have access to a great smartphone experience, from faster tagging and a new interactive map, where users can discover the music people are listening to around them. This is more than just the music that's already popular; these are often songs people are discovering for the first time".
On top of identifying songs, Shazam now allows Windows Phone 8 users to buy recognized tunes from Xbox Music and Nokia Music (the latter option is only available on Lumia devices) and discover new ones.
Shazam for Windows Phone 8 also adds the ability to tag TV shows and advertisements. The new feature is meant to differentiate the service from popular competitors like SoundHound which only allow users to identify songs.
The latest iteration of the app offers new live tiles available in all three sizes, speedier tagging, lockscreen background support (cover art or tag charts can be set as the wallpaper) and localization for 16 languages.
Shazam is available to download from the Windows Phone Store.