Wearable cloud tech makes users feel more self-confident, clever... and sexy?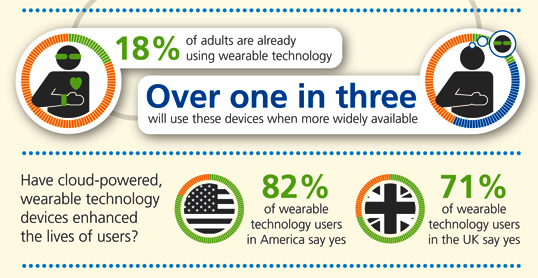 A study by CAST in conjunction with Rackspace reveals that users of wearable technology -- such as the Nike+ FuelBand and Jawbone UP -- feel using such devices boost their intelligence levels. The study looks at residents of the UK and US, and finds the wearable tech users not only feel cleverer, but also more self-confident.
These are not the only benefits the study unearths. US participants were generally rather more impressed with the benefits of wearable technology -- 71 percent of American users felt their health and fitness had improved as a result of using such devices, compared to 63 percent of those in the UK. More than half (53 percent) of US users believe wearable tech helps to improve intelligence, compared to just 39 percent of UK users.
Google Glass is one of the most desirable pieces of wearable technology, but more than 20 percent of those surveyed believe that the device should be banned. A further 62 percent believe such devices should be regulated, with around half of people citing privacy concerns as a potential barrier to using them.
In spite of these privacy concerns more than a fifth of those questioned say they would allow their location to be monitored by governmental bodies, while a third would be happy to share health and fitness data with a healthcare provider.
It is not just obvious areas of life such as health and fitness that are seen to benefit from internet enabled wearable devices. 37 percent of those asked feel such technology has helped to boost their careers and 32 percent say it has helped to enhance their love life -- we'll leave that one to your imagination.
For statistic fans, the full report is available to download from Rackspace -- if you prefer your study results in bite-size format, there is also an infographic available.
Are you an early adopter of wearable tech? How has it improved your life? Is privacy a concern for you.