Get a new Hulu Plus experience on your iPad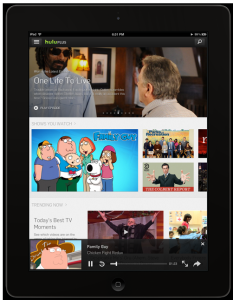 Despite the looming possibility of a buyout, Hulu continues to push its service forward with updates and new platforms. The latest version of Hulu Plus, the premium arm of the online TV service, today updates its iPad offering, with what the company calls an entirely new experience for your tablet.
"We've redesigned the app from the ground up, focusing on discoverability, efficiency, and our overall user experience", Hulu tells us. "We've really focused on developing several new ways to make your favorite shows, and your favorite new shows you never even knew existed, easier to find", the company further explains.
The new Discover feature allows you to tap an image of a show or episode and trigger a new panel. This will display the first, next, or latest episode to watch, depending on your viewing history with that show. Tap an episode and Hulu will give you a summary along with some info on that episode to help decide whether the program is something for you.
You can also touch the video and pinch your fingers together to minimize what you're watching. The show will continue playing, and you can carry on with using the app to do anything else you'd like while it plays. When you start to do something else, the minimized player will disappear.
The company also promises easier navigation for finding a show, editorial curated collections, inline playback of clips and a better search experience. The app is free, but the Plus service is not.