Is it going to rain? The BBC's new weather app can tell you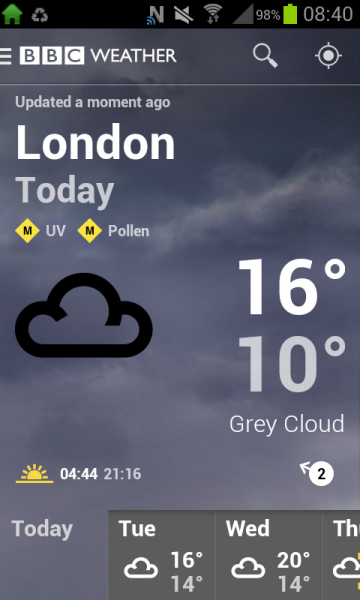 The BBC's weather predictions tend to be reasonably accurate, and now you can check the corporation's latest forecasts on a new app available for iOS and Android.
When you launch the app it detects your location and tells you what the weather is like where you are, providing details such as high and low temperatures, current conditions, humidity, visibility and wind speed.
It also gives you access to a five-day forecast and options to view UK weather on an hour by hour basis, with three hourly forecasts for places overseas. You can search for locations anywhere in the world and save them for future access.
Liz Howell, Head of BBC Weather, says: "The new BBC Weather app is the perfect companion for this summer's great British sport and music events. We know that our audiences really want that at-a-glance forecast when they're out and about, with the option of digging for further detail when they need or want to. That's exactly what we've delivered, squeezing in all of our trusted data into an app that's simple to use and looks fantastic".
You can grab the app from the Apple App Store or on Google Play.