Opera Mail says goodbye to the browser and goes it alone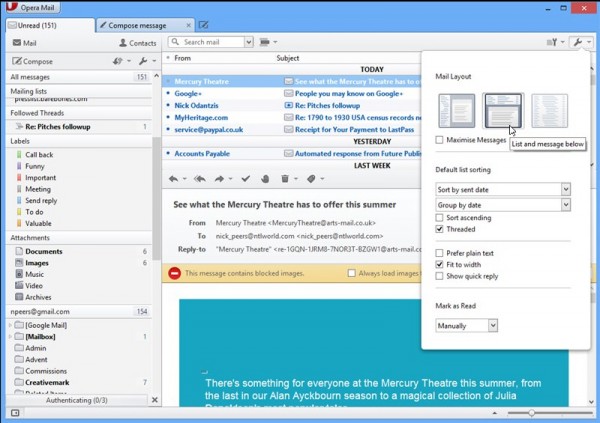 Opera has unveiled the first stable release of its standalone mail client. Opera Mail is based on the integrated Opera email client found in the current version of Opera 12.15 FINAL, but which is due to be dropped from the next major release of Opera (currently in alpha as Opera 15.0 Next).
Opera Mail promises to be both lightweight and fast, and while mirroring the functionality found in previous versions of Opera, which includes features such as labelling, filtering, multiple tabs and thread support.
Opera Mail -- like all good third-party clients -- supports all POP3 and IMAP protocols, plus a wide array of web-based email providers, including Gmail, Hotmail, Yahoo and MobileMe. Setup is straightforward -- usually just supplying an email address and password is sufficient, and users can import mail from other clients using the setup wizard.
Unlike other mail clients, messages aren't stored in separate folders; instead they're integrated into a single database, and users have access to a range of tools for filtering and viewing them, all accessible from the left-hand sidebar. Some are automatic, such as Attachments and mail folders, while users can also organise messages by label or select specific threads to follow for quick and easy access.
It's all very straightforward to use -- a welcome email provides a good overview of the program's capabilities as well as links to other tutorials and online help. The application also supports tabs for switching views quickly, and allows users to also monitor newsgroups and RSS feeds too.
Opera Mail 1.0.1040 is available now as a freeware download for Windows and Mac.