CCleaner improves cleaning performance with Office 2013 and major browsers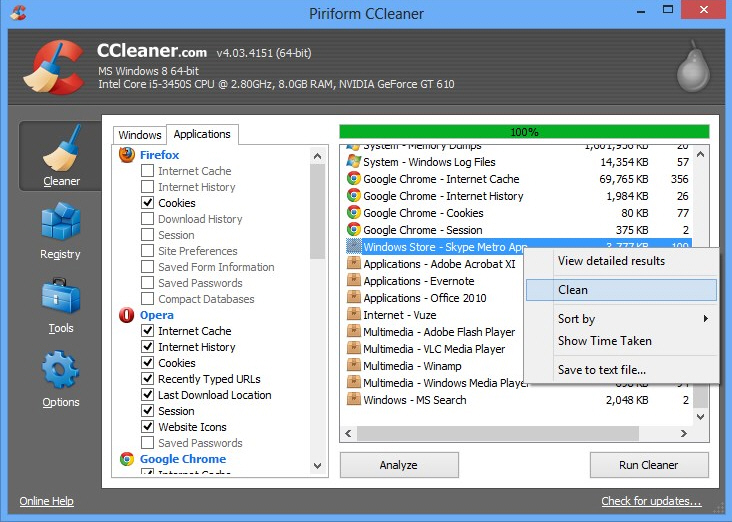 Piriform has updated its free Windows cleaning tool with the release of CCleaner 4.03. The new build, also available in portable form, concentrates its improvements on the four major browsers: Firefox, Chrome, Internet Explorer, and Opera.
Version 4.03 also improves cleaning for Office 2013 users, extends support to five new programs (including three Windows 8 apps) and also promises new and improved features for paid-for Pro users too.
One new feature is added to CCleaner 4.03 -- the ability to reboot the computer after cleaning has finished. This is accessed from the command line using the /AUTO /RESTART switch.
Improved browser cleaning covers Firefox (site preferences, History and startup items), Internet Explorer 9 (last download location), Internet Explorer 10 (saved passwords, userdata cookies and last download location), Chrome (startup items) and Opera (cache).
Also improved is the cleaning tool for Microsoft Office 2013, while new programs added to CCleaner's database include Express Scribe, Gom Player, Skype Modern UI, Twitter Modern UI and Adobe Reader Touch.
Pro users gain the ability to manage cookies for multiple user profiles, while the Startup item management tool has also been improved on multi-user setups in Windows 8. The update is rounded off with improved localization and language support, including a new Thai translation.
CCleaner 4.03 and CCleaner Portable 4.03 are both available as freeware downloads for PCs running Windows XP or later. A Pro version with added features, including system monitoring and multiple profile cleaning, is also available.