Shapeshifter makes clipboard management easy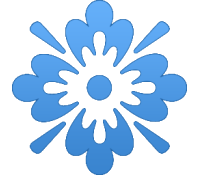 It is no secret that the Windows clipboard is, well, extremely basic. It does not even try to remember anything more than your last operation, so if you copy some text, for instance, anything that was already there will be lost forever.
You do not have to live with this, though. Install Shapeshifter and it will remember everything you add to the clipboard, then allow you to choose exactly what you want to paste later.
The program installs without issues (no adware), and makes considerable efforts to help you figure out its operations, with helpful pop-up messages explaining its status and what you need to do next.
You may still be occasionally confused, as when the program asks if you want to use it in "Mixed", "Integrated" or "External" mode; that did not seem entirely clear to us. We chose the first one, though, hoping that would keep our options open, and then it was time to get started.
For the most part, this does not involve any extra work at all. Just continue using your PC as usual, copying text, images, files and whatever else you like to the clipboard, and Shapeshifter will remember it for you.
When you need to paste something, though, you must press and hold Ctrl + V. Shapeshifter pops up, displaying a list of all your copied items. Use the up and down cursor keys to select the item you need, release Ctrl + V, and it will be inserted at the current cursor position (it is easy).
And the program even tries to help with possible privacy concerns. If you are scrolling the list on a shared computer and spot a confidential item in the clipboard, then pressing Del will dispose of it for you.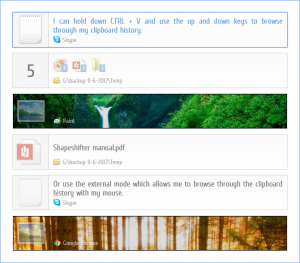 This simplicity does bring a few problems. If you have a really long list of copied items, for instance, there is no "search" feature to find the one you need – you just have to scroll through, inspecting them individually. You will only see the first line or two of text, as well, so it might not be possible to identify the item you need. What is more, the need to keep Ctrl + V held down as you are working can be a little uncomfortable.
Still, for simple use -- you just want to re-paste a very recent image or text item -- Shapeshifter works very well. If you are looking for a clipboard manager which puts ease of use above all else then this is definitely a program to try.