Microsoft announces new Dynamics CRM to deliver improved customer experience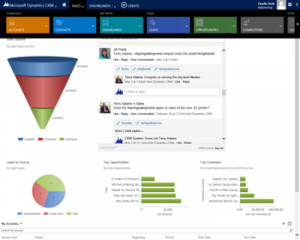 Microsoft has announced that it is releasing an updated version of its Dynamics CRM package in the fall of 2013. The new package is designed to help enterprises engage with their customers and will be available as both cloud and installed systems.
The refreshed version is designed to deliver a fast and fluid user experience, enabling people to access information that's relevant to their jobs and have deeper insight into customer requirements. It also offers improved social collaboration features as well as the ability to access information on a variety of devices including Windows 8 tablets and iPads. Android, iPhone and Windows Phone 8 versions will be available shortly after the package's release.
"Customers don't want to be sold to anymore. They are knowledgeable and are interacting with their social and professional networks to make their buying decisions. They expect businesses to help them make the most informed choice," says Bob Stutz, corporate vice president, Microsoft Dynamics CRM. "Microsoft Dynamics CRM helps people connect with these customers in a way that is personal -- giving them the information they need to choose the right solutions, engage to drive sales and nurture relationships to deliver amazing experiences."
Key features of the new release include links to Microsoft's MarketingPilot campaign management solution to help businesses understand their customers. Dynamics CRM lets companies adapt business processes according to the needs of their customers. It also allows users to collaborate and share customer information via Yammer from within the Dynamics package. It connects to Lync and Skype too enabling real-time contact updates.
You can find out more about what's new in Microsoft Dynamics CRM by visiting the Microsoft website.