Second batch of Windows 8.1 updates improve application compatibility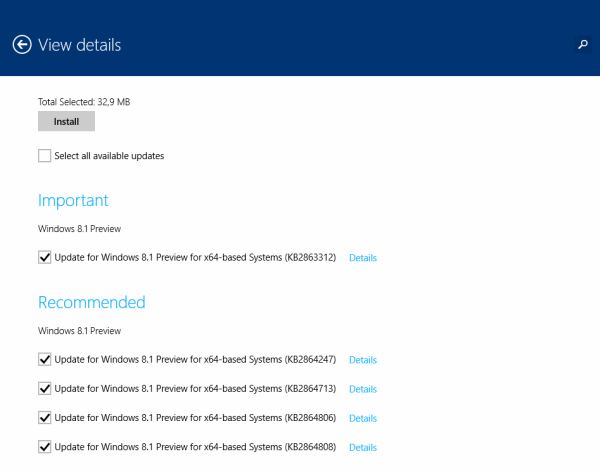 Microsoft released a public preview of the upcoming Windows 8.1 exactly a week ago. The anticipated Windows 8.1 update introduces several changes to the operating system including the ability to boot to Desktop and more efficient Start screen app management.
The first batch of updates was released just two days after the public availability of the preview on June 28. Updates addressed performance issues of the Search charm, SkyDrive video playback, and ironed out two Windows Store kinks in the process.
Here's a list of the included patches:
Yesterday's second batch of updates for the Windows 8.1 Preview includes one important update that improves the operating system's compatibility with third party programs such as AutoCAD, McAfee software, Norton security products, Parallels Desktop and AVG Internet Security 2013 to name a few.
The update addresses issues that prevent applications, games or drivers from installing correctly, causing instabilities or not functioning properly on the system.
In addition, four recommended updates were also released. The first one fixes a download resume bug in Internet Explorer 11 that prevented the feature from working properly. The second addresses Google sign-in issues in certain Windows 8.1 applications caused by cookie retrieval issues on the computer. The third update resolves a bug in Windows Store that caused the app to crash as soon as it is opened on affected systems. The final update improves the robustness of data files on the system.
This is the list of updates included in the second batch:
The updates are available for Windows 8.1 and Windows RT 8.1 systems. The automatic update feature of the operating system should pick them up automatically.
You can however install them right away by performing the following operation:
Tap on the Windows key to open the Start screen.
Type in Windows Update and select the first result. This opens the corresponding control panel applet on the desktop.
Click on the check for updates link on the left if updates are not shown right away.
A click on the important updates listed here opens a new screen that enables you to select the updates that you want to install on your system.
Please note that you need to restart the PC afterwards to complete the process.