Google gives you the opportunity to ride Tour de France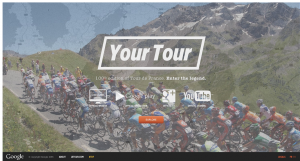 Three weeks and two thousand miles on a bicycle is something few of us could even fathom, especially over the steep peaks of the famed Pyrenees and Alps. The race may be a week into its trip around the roads of the French nation, but it is not too late to pull on your gear, take a deep breath and see what it is like to wrest this year's title away from potential winner Chris Froome before the famed race reaches its conclusion on hallowed Champs-Elysées.
Now Google unveils your opportunity to ride along over the mountain passes and down the narrow streets where sprint finishes are frequently decided and carnage is never far off.
"The Tour de France is using a variety of Google products to help you experience the race like never before, including a YouTube channel, a Google+ page and an Android app where you can keep up with this 100th edition. We've also used Google Maps and Street View to create a new interactive experience that lets you feel what it's like to pedal alongside the greats" says Google's Raphaël Goumain, Consumer Marketing Director.
All of this can be accessed and explored from the Google Your Tour page. The rest is up to you, so grab your Pinnarello, dig out your helmet and hit the beautiful roads of France for a leisurely ride around the country.