Google introduces a 'new mapping experience' for smartphones and tablets

Google has started rolling out a new version of Google Maps for Android devices, with plans to update the iOS edition "soon".
According to Daniel Graf, Director, Google Maps, the updated app builds on the version Google released for the iPhone last December, but improves on it by adding additional search and navigation features, as well as a dedicated design for iPads and Android tablets.
New features include:
Explore -- Tap the search box to see cards showing local places to eat, drink, sleep and shop.
Enhanced navigation -- As well as current traffic conditions, Google will now alert you to incidents on the road ahead, and if a better route opens up while you're out and about, the app will direct you to take that instead. If anyone at Google ever decides to switch to a life of crime, this feature will come in handy for redirecting armored cars down deserted alleyways…
Reviews, Zagat and Offers -- The app features a new 5 star rating system for restaurants, bars and cafes, and the Zagat badge of excellence and curated lists is being integrated into search results. Offers from major brands will also appear directly on the map.
OK Maps -- replacing the current offline maps feature for Android, this lets you  access maps offline by simply entering "OK Maps" into the search box when viewing an area to save for later.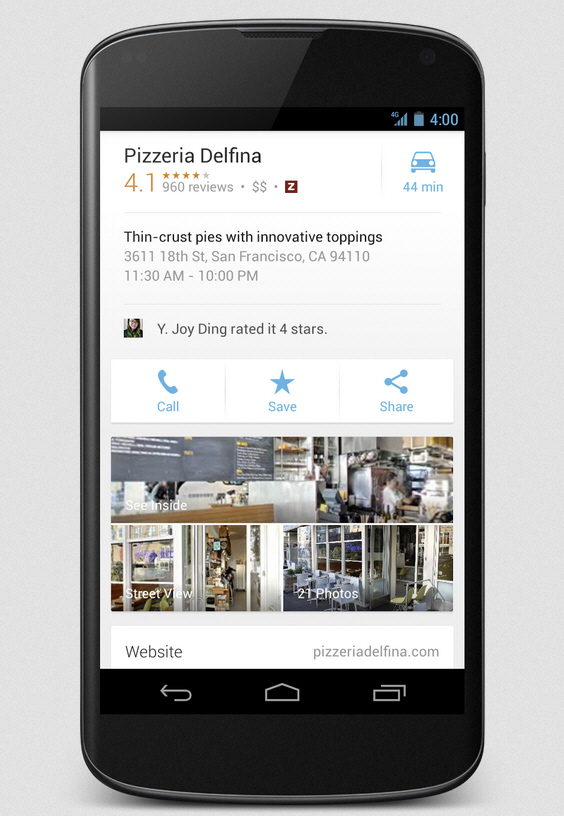 Google has removed Latitude and check-in from the new app, and will be retiring them from older versions on August 9. If you're an avid user of those features, you can still use them, but through the Google+ app.
My Maps functionality is not available in this release either but will be added at a later date.
Daniel Graf sums up the new app saying, "Helping you find great places is what we love to do. And as more of us use mobile phones and tablets in our daily lives, information that's useful to you isn't just about what you need, but also where you might find it. Today's update is an exciting step forward for Google's maps -- one that we hope will make it faster and easier for you to explore and discover places you want to go".
The app update will be gradually rolling out to Android 4.0.3+ users over the next few weeks. For additional information, and to see if it's available for you, take a look at the Google Play store.