TAudioConverter can extract and convert almost any audio format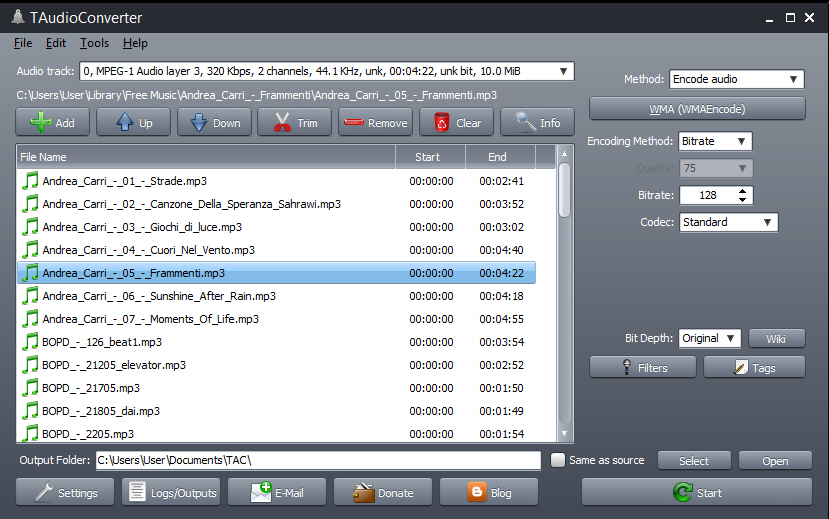 Most PC users will occasionally need to convert audio files from one format to another, and for this most part this is quite straightforward. If, say, you have a few WMA's which you need to be MP3′s, then just about any audio conversion tool ever written will get the job done.
What if you need to work with some unusual source formats, though? Extract the soundtrack from a video? Configure audio file tags, or take complete control over the encoding process? Then you'll need a conversion tool with a little more power. Like TAudioConverter, in fact.
This capable open source tool installs quickly, before presenting you with a clear and simple interface. Getting started is as easy as dragging and dropping your source files onto the program, or you can click Add and import specific files, a single folder, or an entire folder tree.
File format support is excellent, with TAudioConverter able to read just about any audio format there is. You can select video files, too, if you'd like to extract their soundtrack. Write support isn't as impressive, but you still get all the choices you're likely to need: AAC, MP3, OGG, WMA, FLAC, AIFF, WAV and so on.
There's plenty of control over the conversion process, of course, with options to choose the encoding method, bitrate, bit depth, codec and more.
You can apply a few effects, perhaps normalizing your audio files, changing their volume, or protecting against clipping.
A simple Tags dialog allows you to manually set a few common tags for the destination files (Artist, Album, Performance, Genre, Date), rather than copy them from the source.
Explore the buttons and menus and you'll find several other convenient extras. You can trim the source files to ensure the program only converts what you need, for instance. And embedded artwork in the source can be copied to a separate folder.
If you've got plenty of files to work on, though, perhaps the best news is that TAudioConverter is fully multi-threaded. The program can process up to eight files simultaneously for the best possible performance, so you shouldn't have to wait long for the finished results.