The new Nexus 7: Not your grandfather's Android tablet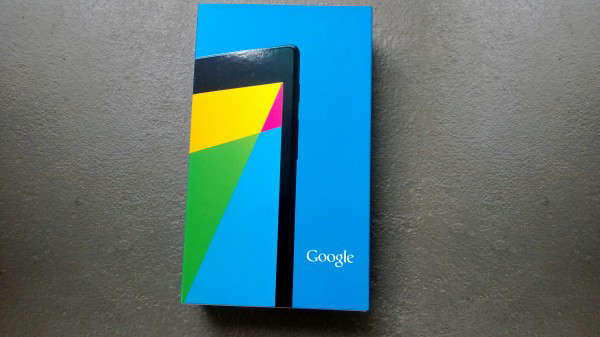 "The new Nexus 7 makes my Asus MeMO look pathetic". That is what I told my colleague Joe Wilcox over the weekend. Android, the open source Linux-based mobile operating system from Google can be found in many places -- cheap no-name tablets run the OS, but should be given a wide berth. Big name hardware makers also produce these gadgets -- Samsung and Sony to name just two. However, the most prominent on the market in recent times has been the Nexus 7, the pure Android experience from Google (but built by Asus), and the Kindle Fire HD, Amazon's highly customized tablet.
In the past, regardless of my liking for pure Android, I would have chosen the Amazon device in a heartbeat. It's thinner and has a better screen, plus Prime customers, like myself, have easy access to the retail giant's streaming video library. However, my view changed this past week, as Google rolled out its latest version of the Nexus 7.
A Rough Start
I received my new Nexus 7, a review unit from Google, the day after the announcement, which came last Wednesday. Upon unboxing I found an unbootable device -- not the best first impression, but Google acted quickly to have a replacement out to me the next day and this time it was a working model.
From there things ran smoothly, with a simple login to my account. Some apps were even downloaded automatically, though not all of them. Every version of Angry Birds appeared, along with Silent Sleep, while others went strangely AWOL. Photos also propagated the Gallery, though not all of them.
What You Get
The tablet boasts a full 1080p  screen that is absolutely stunning to behold. The display flies in the face of what Apple tried to make users believe. The addition of Open GL ES 3.0 makes the new version of Android more efficient and just plain better at displaying graphics. The 1200 by 1980-pixel LCD display is quite a sight -- literally.
Android 4.3 brings only minor updates -- the new release is still Jelly Bean, as we await Key Lime Pie a bit longer. Perhaps the biggest addition is that of multi-user restricted profiles. This allows you to control the usage of apps and other content on a user level. That is a handy feature for parents, and can be enabled from Settings. User profiles were introduced in version 4.2, so this addition just adds features to Jelly Bean.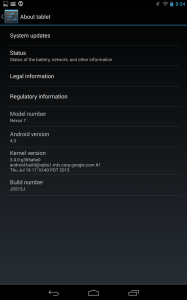 The Nexus 7 boasts a quad-core Qualcomm Snapdragon S4 Pro processor and 2GB of RAM, and the device comes in both 16 GB and 32 GB models. The new 7-inch tablet defines fast. I have never experienced a quicker response on any device I have used. The Nexus 7 also features a front and rear camera, with the latter being 5 megapixels.
The device comes with "My Library" smack in the middle of the home screen, displaying magazines and such that apparently Google hopes I may wish to purchase. This can be easily removed, though, with a simple long tap and a drag to the trash bin. Get it back from the Widgets library if you change your mind.
Would I Buy It?
As I started out saying, the new Nexus 7 leaves me unwilling to look at my MeMO -- I even tried to swap that device with my son, who previously confiscated my Kindle Fire HD, but he would have none of it. Now with new Nexus 7, I feel I once again have the upper hand in this small household battle of tablets.
I will be sad to ship this back to Google, but the search giant need not despair for me, as it will have my order soon after that fateful day arrives, though I likely will skimp and grab the 16 GB model, as opposed to 32 GB version currently in my hands. I simply do not require that much free space for my use and I tend to be a bit on the cheap side.