Android Device Manager tracks down your lost phone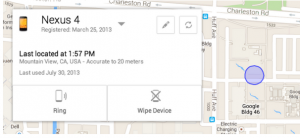 We've all done it -- put our hands to our pocket only to discover that the phone we thought was pressed close to our body is in fact missing. But where? That's the question. Android Device Manager is Google's latest solution to help you hunt out your hidden handset.
You could get a friend to call your phone -- that would seem like the obvious thing to do. But it's no help if you have put your phone into silent mode. Android Device Manager is able to call your phone and make it sound, even if the volume is turned down, so you can quickly determine if your Droid is nestling down in the back of the sofa or in the back of your car.
Of course, it may well be that carelessness struck a little further afield. Never fear, a map is available to show the location of your device. If you are concerned about security, a remote wiping option will keep data away from prying eyes.
Before you get too excited, Android Device Manager is not yet live. It's due some time this month, so if you have lost your phone you'd better hope that your battery holds out, and silent mode is not enabled. Just keep an eye on the official Android Blog (or here!) for updates.