Nokia adds call and SMS blocking to part of its Lumia Windows Phone 8 lineup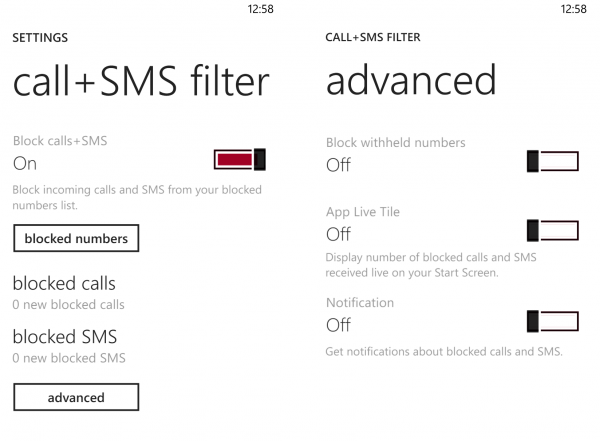 Even with all the technological advancement in smartphone operating systems, minor features like call blocking are still absent on some modern-day devices. My Nokia Lumia 920 Windows Phone offers no such functionality, which would definitely come in handy when pranksters are calling in the middle of the night.
The reason for this oversight, in the case of the Lumia 920, is that Microsoft has not baked in a call-blocking feature in Windows Phone 8. But, thankfully, Finnish maker Nokia took matters into its own hands and just released an update for its exclusive extras+info app, which brings the basic yet important functionality, alongside SMS blocking, to part of its Windows Phone 8 lineup.
Once installed, the updated extras+info app adds a new menu within the Windows Phone 8 system settings, called "call+SMS filter". The new feature takes advantage of existing, built-in functionality in order to allow users to block phone numbers, and deliver notifications when they receive calls or text messages from unapproved digits.
Numbers can be blocked straight from the Phone and Messaging apps. Lumia Windows Phone 8 users simply have to long tap on the item and select "block number..." from the window that pops up afterwards. To white-list numbers, folks must go to call+SMS filter and then untick the items from the adjacent menu.
To make keeping track of unwanted calls and SMS messages easy, the new feature also allows users to receive notifications when an action is performed and pin a live tile on the Start screen which shows a counter for blocked calls and SMS messages. Withheld numbers can also be blocked.
The call+SMS filter menu is not currently available in system settings on all Nokia-branded Windows Phone 8 handsets. For it to be enabled, the smartphone must run the Lumia Amber software version, which is based on the second Windows Phone 8 update (also known as GDR2).
For this reason I could not get the feature to appear on a Lumia 520, that has yet to receive an update to the aforementioned iteration. But, I can confirm that it works flawlessly on my Lumia 920, which runs the Lumia Amber software version.
extras+info is available to download from Windows Phone Store.