More Windows Phone handsets get a coat of Fresh Paint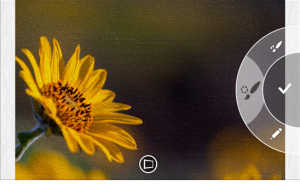 Microsoft may be continuing to celebrate with a "we're number three" chant, but the company also isn't resting on this minor victory over Blackberry. Instead it wishes to spread further and wider, and create its own apps when others fail to come through -- especially Google, which has been a major thorn in the side.
Fresh Paint, an art app that was only released last month, has a new update that is designed to support even more devices -- "Fresh Paint, Microsoft's popular free art app first released on the phone last month, has just been updated to support Windows Phone 8 models with 512MB of RAM", says the company's Michael Stroh.
The app is free in the Windows Phone store, and Microsoft touts that you can "use the Lens feature to get a live preview of your photo through various filters, like Sketch and Oil. When you're painting something original, Fresh Paint lets you custom mix colors, choose different brushes, and adjust your brush size as you need to".
Fresh Paint does require you to be running Windows Phone 8 -- 7.8 customers need not apply. It also comes in 28 supported languages and sports a 4.5-star rating.