Google Maps and Waze -- the integration begins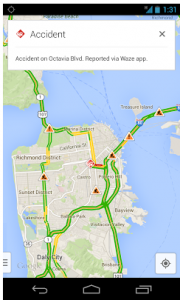 Google purchased mapping firm Waze back in June, bringing two services that many mobile users feel are among the best on the market under the one roof. The acquisition led to speculation that the unique features offered by Waze would slowly be rolled into Google. Much of Waze's information is crowd-sourced, such as accident reporting, traffic delays and even police radar.
That speculation begins leading to fruition today as the search giant rolls out step one. "No one likes getting stuck in traffic. That's why the Waze and Google Maps teams are working together to harness the power of Google technology and the passion of the Waze community to make it easier to navigate your daily life", says Brian McClendon, VP of Google Maps.
Incident reports, including all of the ones I previously mentioned, will continue to appear in Waze, but now also within the Google Maps app as well. This will be effective in Argentina, Brazil, Chile, Colombia, Ecuador, France, Germany, Mexico, Panama, Peru, Switzerland, UK and the US.
Google, referring to the Waze app, also says "the Android and iOS versions of the app have been updated with Google Search. Wazers will now have access to even more search results when navigating. Google Search joins other search providers making it easy to find favorite businesses and any local address". The Waze app will now have access to Google Street View, as well.
So far Google shows no signs of intending to take the technology from Waze and then kill the service, though given the company's penchant for getting rid of services, it will always loom as a possibility.