ImBatch adds image batch renaming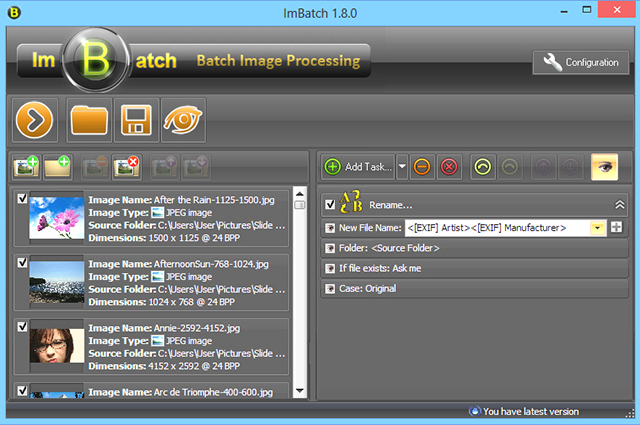 High Motion Software's freeware image batch processing tool ImBatch has hit version 1.80, and the new release sees some very welcome additions.
Top of the list is a Rename task, which sees the program able to batch rename an entire folder according to its EXIF or IPTC metadata, height, width, size, creation/ modification/ last accessed dates, and many other attributes.
A new Color Balance task allows you to adjust your image RGB values by a set amount.
It's now possible to tweak the brightness and contrast of all your selected images, too. Although again this is manually and by a fixed amount.
The Publish on Facebook task now has a parameter allowing you to post to a specific page.
And Italian has joined the already lengthy list of supported languages.
The new Rename task is the clear highlight here. While not as flexible as specialist tools, it's a very capable first attempt and includes plenty of useful extras (you're able to set case to all lower or all upper, for instance). Not bad at all, especially considering it's only 6 weeks since the last ImBatch release; we'll be very interested to see where the program goes next.