PeaZip 5.1 simplifies scheduled archiving, improves bookmarks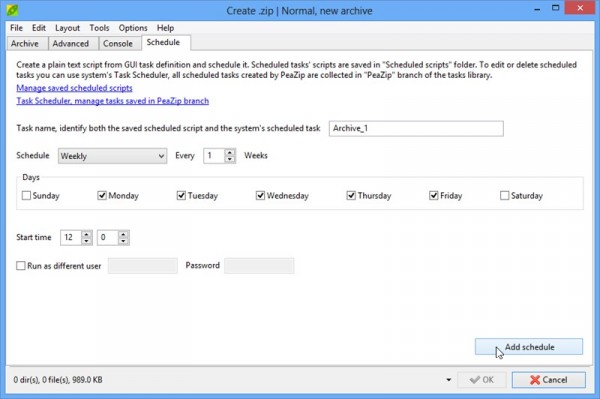 Cross-platform open-source archiving tool PeaZip 5.1 is here. Also available as a standalone 64-bit build and in portable format for Windows users, the latest version adds a new Schedule tab in machines running Windows Vista or later.
The new tab, which is fully integrated with the Windows Task Scheduler, makes it easier to create scheduled archiving and extracting tasks, such as backing up or restoring data from an archive at set intervals.
Version 5.1 also improves its bookmarks support. Now when the user deletes all bookmarks from the application, the list remains empty. The default ones are only listed after resetting the application or due to the removal of the bookmarks file itself.
The new build also adds support for iOS device firmware packages in the .ipsw format, which takes its support for archived formats to 175 in total. Users will now also now find a check for updates link both in the installer and system integration wizard. The update follows a couple of months on from the release of PeaZip 5.0, which introduced a number of major improvements centred around a design and code cleanup, which translates to a much improved user interface making key features more visible and simple to use.
PeaZip 5.1.0 is available as a free, open-source download for Windows and Linux. Also available for compatible Windows machines are PeaZip 5.1.0 (64-bit), PeaZip Portable 5.1.0 and PeaZip Portable 5.1.0 (64-bit).