OneNote for iOS gets an update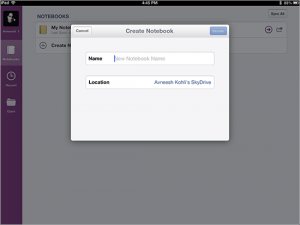 Microsoft is locked in a battle for your note-taking needs on mobile devices. Evernote is the perceived king of the field, but OneNote is certainly a strong competitor and today the software giant announces improvements to the iOS version of the Office app.
The latest update allows users to create notebooks on the iPad as well as create, delete and rename sections. Microsoft claims this was one of the most requested features from customers already using the previous version, but it is also not the only enhancement made to this build.
Avneesh Kohli, a Program Manager on the OneNote team, tells us that SkyDrive also plays a much larger role on the Apple mobile operating system -- "we're happy to announce that OneNote for iPad now has full support for creating new SkyDrive notebooks".
Other enhancements made to the OneNote app include typing improvements for Japanese-language customers, a download of less than half the size of the previous release, support for automatic list detection and the usual array of bug fixes that are a part of every software update these days.
Both the iPhone and iPad versions of OneNote are completely free for download. The service works fine as a stand-alone app, but being an office customer on the desktop adds another dimension to the experience.