Apple reveals iPhone 5S -- the rumors were true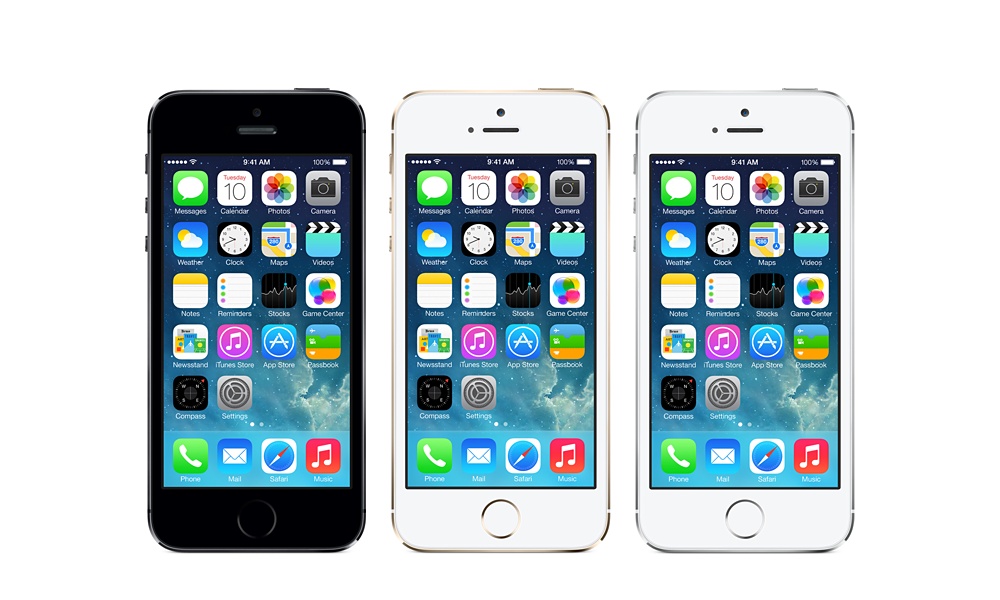 There were so many leaks prior to today's announcements at Cupertino that we pretty much already knew what to expect. Apple has taken the wrapper off the latest version of the iPhone and the company has stuck to its recent release schedule of following up a major iPhone with an S edition -- the iPhone 5S. Visually, things are very much the same as before, but in addition to black and white models, there's also the light gold colored model -- colors we now know should be referred to as space gray, silver and gold.
The promise to "brighten everyone's day" seems to have meant not only an addition to the color options for the iPhone 5C and 5S, but also new features. While the 5C retains the same processor as in the 5, the 5S boasts a new A7 processor which is the world's only 64-bit chip in a smartphone. iOS 7 has been re-engineered as a 64-bit operating system, but the chip is capable of running 32-bit and 64-bit apps. Apple claims the processor is double the speed of the iPhone 5 according to the graph they showed. And the processor now supports OpenGL|ES 3.0, the same as Nexus 7.
There's also a new M7 co-processor which measures the accelerometer, compass, and gyroscope which Apple claims will lead to a new breed of health and fitness apps. In terms of battery life, iPhone 5S users can expect 10 hours of talk time and 120 hours of standby. As with previous S models, there are other upgrades to the hardware to be found inside the case. The phone's camera has come a long way in recent years, and the 5S take things further boasting an F2.2 aperture lens.
The 8 megapixel camera takes multiple photos when the shutter is pressed, processes them and combines the elements of each for the best results. Two LED flashes -- one warm, one cool -- help to create a better light balance in shots, and there is a new burst mode than can take up to 10 shots per second. There's also double-speed video capture to experiment with thanks to 120 FPS video capture at 720p.
The rumoured fingerprint reader has indeed materialized, despite the fact many commentators thought it fantastical ahead of today. The Touch ID reader can be used to unlock the iPhone as well as confirming identifies when making a purchase. Forget typing a password or tapping a PIN, your finger is all you need. Orientation is not important as the reader, which is built in to the home button, and can scan at 500ppi in 360 degrees. Talking of the home button, it is now made of sapphire to eliminate the risk of scratches. If you're concerned about security, Apple assures users that fingerprint data is never shared with other apps, or even Apple.
Those all-important dimensions? Height: 4.87 inches (123.8 mm), Width: 2.31 inches (58.6 mm), Depth: 0.30 inch (7.6 mm) and Weight: 3.95 ounces (112 grams).
Of course, there's also iOS 7. As this had already been previewed there were few surprises here. You don't have to be packing an iPhone 5S to take advantage of the updated operating system, it can be installed on everything back to the iPhone 4 and iPad 2. There's the new, flat look, improvements to Siri, the addition of iTunes Radio and AirDrop and a new multi-tasking view as well as easy search access and more. Get downloading on 18 September.
So we now know the details, we've got the full rundown. When can we get our hands on the iPhone 5S? Not long to wait -- the device will be available from 20 September. Expect to pay $199 for the 16GB model and $299 for the 32GB version and $399 for 64GB -- all on a two-year contract. There are also multi-colored cases available for $39 a piece.
Ordering starts 20 September, in the meantime you can check out the iPhone 5S website.