Linkin Park rocks Xbox Music exclusively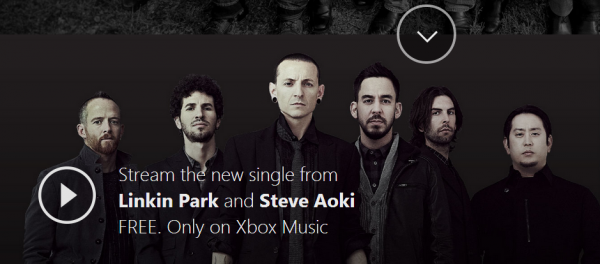 Many of us have been frustrated in the past by music debuting exclusively on iTunes, locking out those of us who prefer a different service. Now Microsoft is taking the exclusive music route with Linkin Park, but doing it a bit differently with the debut of "A Light That Never Comes".
"The song will stream exclusively for 14 days on Xbox Music, Microsoft's all-in-one music service. As the founding member of a band that turns down more partnerships than we approve, I wanted to shed some light on Linkin Park and Microsoft, and let you know how we see the future", says Linkin Park's Mike Shinoda.
He goes on to explain the band's affinity for the brand -- "years ago, our band had legendary Xbox tournaments on our tour bus playing 'Halo' -- competitions which often included fans and other bands. As our career has progressed, we have always been attached to gaming, and eventually got opportunities to participate in the space".
You do not need to be an Xbox Music subscriber to listen to the brand new tune, it streams right from the Xbox Music page, no login required. Of course, Microsoft hopes it will be one more thing to get you to subscribe, as doing so will allow you to take the song with you and listen offline.
Linkin Park also hints that its partnership with Xbox is just beginning, as Shinoda goes on to say "we see our partnership with Microsoft to have the potential of finding new ways of creating, sharing, and experiencing things together as a community. It's my hope that through new technologies like Xbox Music and Xbox One, we'll be able to develop immersive, innovative experiences that give the fans the very best experience".
This is likely only the start of Microsoft working to get exclusives on Xbox Music in an effort to sway a very competitive market. Will it be enough to compete with the likes of Google and Apple?