iPhone 5s comfortably outselling the plastic bodied 5c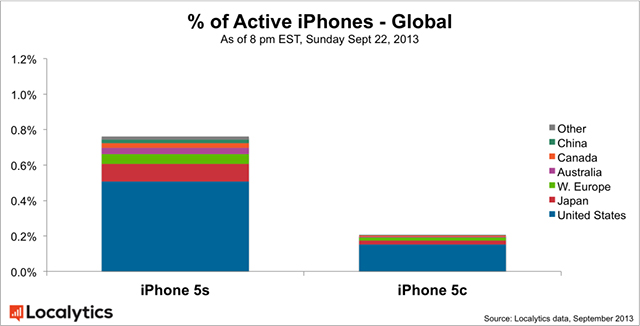 Despite being the cheaper -- or rather more affordable -- of the two new iPhones, and available in a choice of bright pastel colors, the iPhone 5c was always going to struggle to win the hearts and minds of the Apple faithful, especially with the iPhone 5s grabbing most of the attention with its own new colors, 64-bit processor and fingerprint scanner.
So it should come as no surprise that the plastic 5c is currently getting trounced in the sales department by its metallic sibling, although both appear to be selling very well.
According to Localytics, which examined data from over 20 million unique iPhones, beginning on 20 September -- when the new devices went on sale -- and ending at 8 PM ET on Sunday, 22 September, the new models combined now represent about 1.36 percent of the total number of all iPhones activated in the US. AT&T accounted for 0.67 percent of all activated new iPhones (5s and 5c), Verizon 0.51 percent, Sprint 0.12 percent and T-Mobile 0.07 percent.
Localytics says, based on its findings, that 1.05 percent of all iPhones in the United States are now iPhone 5s, and just 0.31 percent are iPhone 5c, meaning the flagship is outselling the cheaper model by a factor of 3.4x.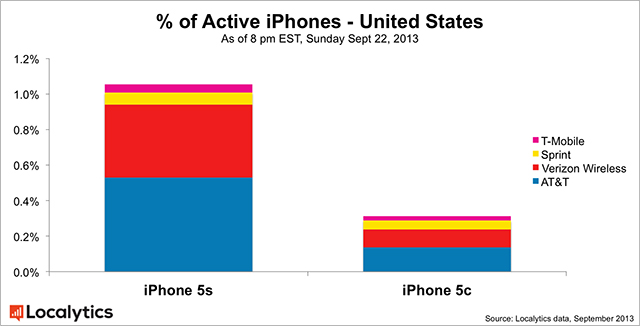 Unsurprisingly, sales in the US are considerably higher than anywhere else in the world but Localytics says adoption patterns are similar overseas, with the 5s outpacing the 5c by a factor of 3.7x globally. In Japan the 5s is five times as popular as the 5c.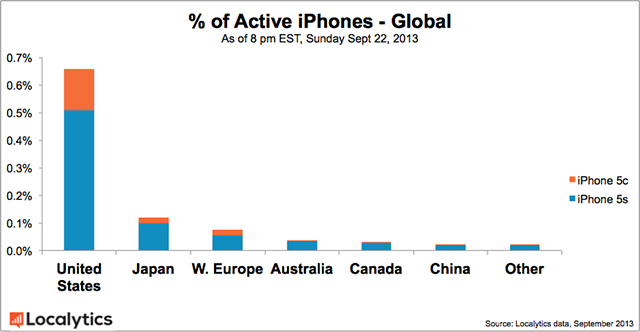 Of course, the opening weekend's sales may not be representative of the long term picture. As Bernd Leger, VP of Marketing at Localytics points out, "those who feel the need to buy a new device the very weekend it launches are most likely the power users who want the highest-end phone experience".
Did you buy one of the new iPhones over the weekend, and if so which model did you go for?