AirCover Security promises all-in-one protection for your Android device [Review]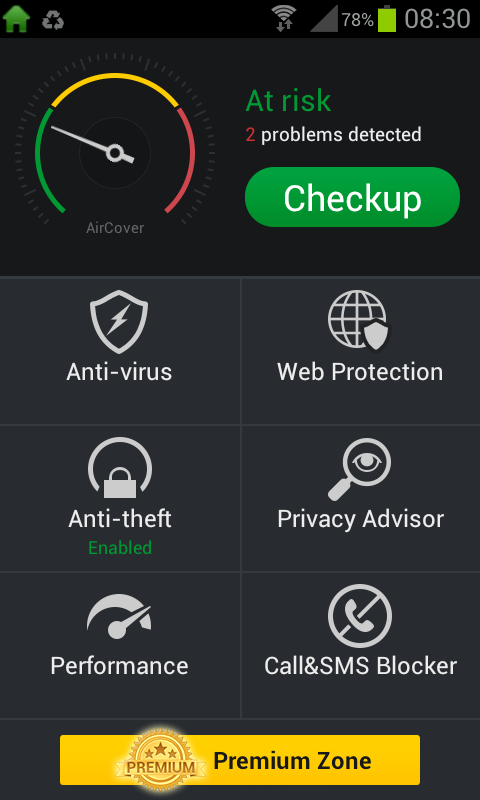 All of the major antivirus firms -- big names like Symantec, McAfee, AVG and Kaspersky -- offer mobile security apps for Android which can help protect against malware and theft. There are offerings from lesser known companies available too.
BlueSprig is a newcomer in this field, but its AirCover Security Android app is a comprehensive offering which can protect against malware and theft, help boost your privacy, block unwanted calls and SMS messages, and safeguard you on the web, as well as optimize your system.
The app is free, with the option to unlock further premium features should you choose to. This is what you get:
Anti-virus -- This offers real-time and on-demand protection and you can run Fast, Full and Custom scans. A Logs screen will let you see how long the app has been protecting you, the number of items scanned and how much (if any) malware was detected. It will also show you the number of malicious URLs blocked and the number of URLs and accounts protected. There are Threat and Operation logs too (the latter lists when scans and checkups have started and completed). With the free version you need to manually update the virus database.
Anti-Theft -- To use this element you first need to set up to an account so you can remotely locate, or lock a missing phone, sound an alarm, wipe private data and back up your contacts. You can try the alarm and location features from your phone without setting up an account.
Web Protection -- This protects accounts like Facebook, Gmail, Google Play and YouTube from phishing, fraud, harmful sites and malware. There's also a malicious URL blocker.
Privacy Advisor -- This contains four elements:
AD detector which lists installed apps that collect data about how you use your device and lets you uninstall any that sound suspicious.
App privacy list which shows you the apps that are allowed to perform certain actions, such as access identifying info, make phone calls, read location details, access your contacts, access SMS, and record sounds.
Vulnerability Scan which checks for weak settings (such as the ability to run apps from third party stores). To actually view the results you need to upgrade to the premium version.
Anti-surveillance detects any installed apps that can listen in to your conversation and helps you remove them. This is a premium only feature.
Call&SMS Blocker -- does what it says and lets you block and allow calls and SMS messages from certain numbers.
Performance -- A single Speed Up button kills non-essential tasks and removes junk files and usage history. You can browse the list of running apps and manually end any you don't require, clear the caches of selected apps, remove lost files, log files, temp files and thumbnails, and wipe the browser and clipboard history.
Upgrading to premium costs $1.99 for 30 days, $7.99 for six months and $11.99 for 12 months, making it more affordable than a lot of the alternative security apps. The paid version gains virus database auto update, and advanced anti-theft features such as Intruder Alert (takes and emails you a photo when someone tries to access your phone after you've locked it), Data Deletion and SIM Monitoring (you'll be alerted if someone swaps the SIM in your device). You also get the Anti-surveillance and full Vulnerability Scan, and Financial Protection which safeguards you when entering payment details online.
Summing Up
I've been using the app for a short while now, with all the premium features enabled, and I really like it. It hasn't noticeably had an effect on battery life, and it's straightforward to use with a good selection of the features available. Any functions you don't require are easily disabled within the app. The anti-theft features work as advertised, but I can't yet vouch for the app's ability to detect malware or block malicious URLs as I don't install apps from third-party stores or visit potentially dodgy sites from my phone. Should I do so, however, I'm fairly confident AirCover Security will alert me to any problems.
You can download the app for free from Google Play.