New Twitter Windows Phone 8 app adds dark theme, more interface options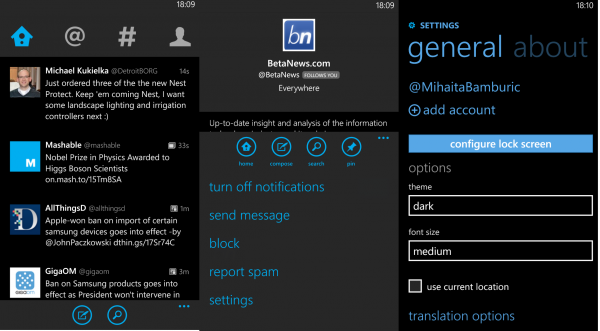 The official Twitter app for Windows Phone 8 has received little attention from its maker this year, confirming the operating system's standing as a second-class citizen. Meanwhile, the popular social network released major updates for its Android and iOS counterparts, which continue to have a comfortable lead in the features department.
Today, Twitter tries to narrow that gap with a major update for the Windows Phone 8 app. The latest version reintroduces the dark theme, that was unavailable in the previous release, and adds new features for the user interface. AMOLED panels should benefit most from the dark theme, as the use of darker colors will drive power consumption down. It also seems to match Nokia's display trend, as the maker uses more AMOLED panels in its Lumia lineup (albeit only for the high-end models at the moment).
The new dark theme can be enabled in Twitter's main menu, by tapping on the three-dotted menu button after opening the app and selecting "dark" under theme. Underneath, there is another new option which allows users to select the languages that the app will not use to translate tweets in (the default Windows Phone language setting is automatically enabled).
This feature will be of use for those who understand more than one language and do not want Bing Translator (the translation service used by the app) to kick in every time they look at a tweet in a foreign language. The latest version adds support for 13 extra languages, over the previous iteration.
For those who wish to keep up with the latest tweets about a certain topic, the app now allows folks to pin keyword searches as live tiles on the Windows Phone home screen. Twitter also tackled the Discover and Search functionalities, which feature unnamed improvements.
Users can now receive notifications when their favorite accounts post new tweets. To enable this, folks have to navigate to the respective account, in the Windows Phone 8 app, tap on the three-dotted menu button and enable "turn on notifications".
Finally, users can take advantage of a revamped lockscreen support which allows them to view "interesting tweets", highlighted on the homescreen.
Twitter is available to download from Windows Phone Store.