HTC supersizes it with the fingerprint reader enabled 5.9-inch One max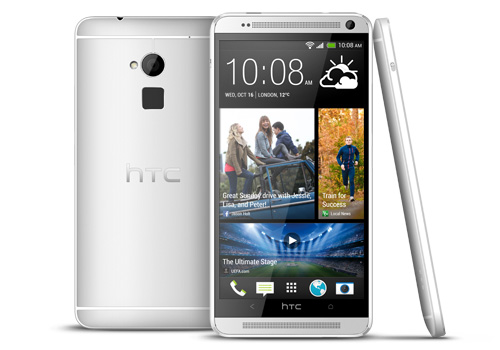 Fans of smartphones with larger displays have a new reason to celebrate as HTC takes the wraps off the gigantically-screened HTC One max. The new 5.9-inch device joins the HTC One and HTC One Mini, creating quite a family of choice.
The One max is without a doubt the daddy of the group, and in addition to the larger screen it also features HTC Sense 5.5. Just like the One, the One max has an all-metal (well, mostly) body.
The screen is the undoubted star of the show here and the 1080p display is going to be what draws people to the HTC One max. The processor, a 1.7 GHz quad-core Qualcomm Snapdragon 600, is the same as the One's but there has been an important decision made relating to storage. Just as with the HTC One, the One max is available in 16GB and 32GB versions, but this time around there is a microSD card slot that can be used to extend storage. More storage still is available with 50GB of free Google Drive space included with the purchase of the phone.
Apple caused a little ripple of excitement when the iPhone 5s was revealed to have a fingerprint scanner built into the home button. HTC is following suit, adding a fingerprint scanner of its own to the HTC One max.
This time around, the scanner is built into the back of the phone and it can be used for more than just security. HTC has seen fit to enable phone owners to use different fingers and shortcuts to different apps -- up to three applications can be linked to individual fingers.
The integrated battery is a 3300mAh unit, and this can be supplemented with the optional HTC Power Flip Case which includes a 1150mAh battery pack. The phone, available in what is being described as Glacial Silver, has a staggered global rollout from the middle to the end of October. Europe and Asia are due to get the first look, with the US following shortly after.