Verizon LG G2 -- an old-school Android smartphone [Review]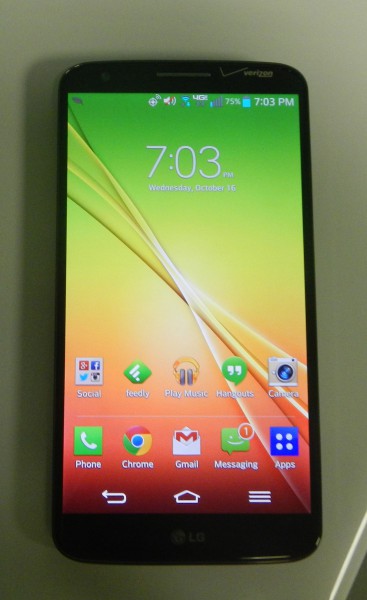 The Android operating system and school of thought are undergoing a major change; a sea change brought on by the Motorola Moto X and its voice interaction. After using it, I remarked that specifications and benchmarks melted away and I was enveloped in the experience. However, not everyone wants to interact with their smartphone using voice. Some people, myself sometimes included, just want to touch a big beautiful display and have the best specs and most bragging rights... and that's OK. People are different as is their usage.
The LG G2 represents Android's old-school, previous school of thought. It is fast and flashy and will trounce the Moto X in speed. However, the phone infamously has a new trick up its sleeve by assigning the buttons to the rear. This feature stole the focus from the device in the media and rightfully so. After all, it is an out-of-the-box approach that people just haven't seen before. I have been using this smartphone for a couple of weeks now and I finally feel ready to share what it is and what is isn't. At the end of this article, you will find out whether I can recommend it or not.
Upon removing the phone from the packaging, I was a little worried about the size. However, even though the G2 has a 5.2-inch screen, the bezel is so small that it is almost the same size as the Motorola Droid Maxx which has a 5-inch screen. In other words, LG has engineered a phone with a huge screen but minimized the footprint with a tiny bezel. I was pleasantly surprised by the feeling of the smartphone in my hand; not too big, more like just right. I have held a Samsung Galaxy Note 2 and thought it was insanely too big. I think LG has found the sweet-spot.
Booting up the device was a normal affair -- other than pressing the power button on the rear. The screen was anything but normal; it is absolutely awe-inspiring. Once on the home screen, it was like a retina-orgasm -- colors popped and text was sharp. It is really a wonder to experience such a large and beautiful screen. Watching HD videos and scrolling through high-res pictures was a dream come true. From a multimedia standpoint, the G2 is a winner.
Typically, one of the first things I do on an Android phone is to install Nova launcher which gives a stock-like experience. However, I couldn't bring myself to do it on this device. You see, LG's launcher is in many ways superior to the stock launcher; it is exceptional. By long pressing the home screen, you can change wallpapers and widgets like most other launchers. However, in addition, you can also scroll through apps and add them too. While this sounds like a minor feature, I can assure you that it is not -- it is a huge time saver. Also, the pull-down menu is chock-full of options. While it comes close to being overwhelming, the big screen accommodates all the options comfortably.
LG's improvements do not stop there. Once in the app drawer, the user can select a cog-icon which will put it into edit mode. From here, users can uninstall multiple apps with ease. On other launchers, it is a one-by-one repetitive affair by dragging them one by one to the home screen and long-hovering to uninstall. Much like the home-screen improvements, I must ponder why Google does not bake these features in.
On the hardware font, the rear buttons are genius -- once you get used to them. I will admit that at first, I would constantly hit the wrong button. Instead of turning off the device, I would turn the volume up or down. However, with time my muscle memory kicked in and it became second nature. Rear buttons lend to an overall beautiful and sleek design that makes the phone feel futuristic.
Another ballyhooed feature is "Knock On" which allows the user to double-tap on the display to turn it on and off. I am very familiar with this one as it was already available for the Nokia Lumia 928 (to unlock) and Nexus 7 2013 (with the appropriate kernel). However, on the G2 it is very unreliable. From my testing, it works about 25 percent of the time. While the feature can be turned off, I chose not to. Why? Wireless charging.
Yes, the Verizon variant of the LG G2 is the only model with wireless charging. However, since the power button is on the rear, Knock On is the only way to turn the smartphone on without removing it from the Qi charging plate. And so, this is the only reason why I do not turn off the unreliable feature.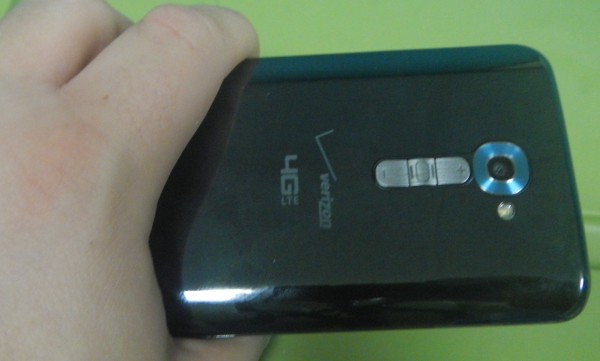 A phone's camera is a very important feature to me and the G2 is very impressive. It has a 13 MP back-facing camera with optical image stabilization. I have been using it as my main camera for both stills and video with excellent results. The HD videos I have taken for YouTube have exceeded my expectations. However, it still does not match the quality of my Nokia Lumia 928.
One of the most pressing issues for smartphone users is battery life. It is very frustrating to need to charge multiple times per day. I previously praised the wonderful Droid Maxx for its impressive performance thanks to its 3,500 mAh battery. However, the G2 has usurped Motorola's device even though it has a smaller 3,000 mAh battery. It is as if LG's flagship is magic... the battery just keeps going! With heavy usage, I can surpass two-days between charging.
Overall, the LG G2 is wonderful. With that said, I must maintain that the Moto X is the best Android phone -- for some people. For other people, the LG smartphone is the best device. Again, it comes down to which type of user you are. If you are "old-school" and you just want the best specs and hardware and you do not care about voice-interaction, the LG G2 is simply the best Android phone you can buy. If you are "new school" and looking for the ultimate Google experience, with voice interaction (and specs aren't as important), the Moto X is the best device for you. Either way, you can't go wrong... it is a great time to be an Android user.
What type of Android user are you, old-school or new-school? Tell me in the comments.