Microsoft brings Windows to Android and iOS phones and tablets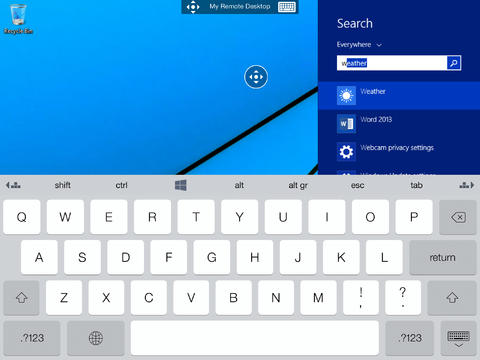 Microsoft's big release of the day may be Windows 8.1, but it doesn't end there. The desktop operating system may have stolen the headlines today, but Microsoft also recognizes the importance of mobile devices. The company is not only concerned with its own devices, realizing that Apple and Android still dominate the mobile arena. But this does not mean that mobile users do not need access to Windows PCs -- hence the release of Microsoft Remote Desktop for iOS and Android.
The prospect of running Windows on an Android or iOS device may be a little way off yet, but it can be achieved via remote access -- which has the handy side effects of making it possible to access files, apps and anything else that might be needed whilst away from your computer. There is no shortage of remote desktop apps in the App Store, but Microsoft's offering aims to keep things simple. As you would expect, this is an app -- free of course -- that can be used to control a Windows PC from an iPhone, iPad, iPod touch or Android device.
Weirdly, there is no Windows Phone version yet, but if you are an Apple or Android owner, you're in luck. Using the remote desktop protocol means there's no need for extra software to be installed on the desktop machine, you just need to know the IP address in order to establish a connection.
That feature list in full:
Access to remote resources through the Remote Desktop Gateway
Rich multi-touch experience with remote desktop protocol (RDP) and RemoteFX supporting Windows gestures
Secure connection to your data and applications with breakthrough Network Layer Authentication (NLA) technology
Simple management of all remote connections from the connection center
High quality video and sound streaming with improved compression and bandwidth usage
Easy connection to external monitors or projectors for presentations
So if you fancy the idea of controlling your PC from your phone or tablet (or you have a need to), take this app for a test drive and see how it compares to the myriad remote access apps there are to choose from.