Comodo cCloud offers 10GB free storage space, debuts revamped website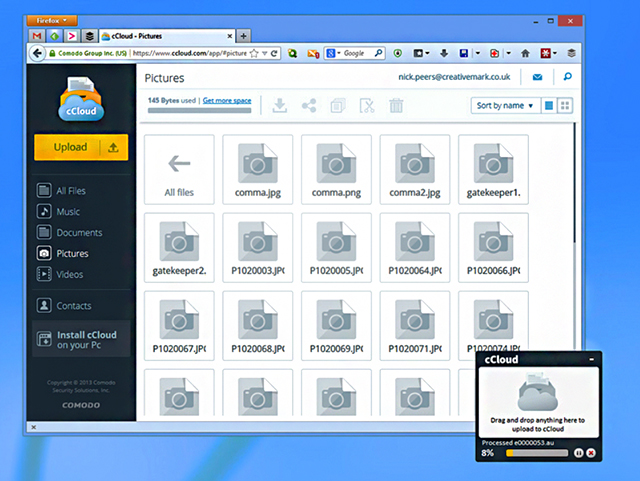 Comodo has launched a revamped version of its cloud-backup and sync service with the release of cCloud 3.0 and Comodo Backup 4.3. Part of the service's unique offering is support for a generous 10GB free storage space, with the ability to potentially double that based on user referrals, with 200MB additional space being granted per successful signup.
The update is accompanied by a complete revamp of the cCloud website as well as support for free home and business user accounts with different feature sets.
Users signing up for a free business account gain additional features like being able to configure sub-account holders into groups and apply different levels of access to files and folders by group or user.
The revamped design is also extended to the cCloud setup and user interface, although it's most noticeable in the web client, sporting the flatter look adopted by Windows 8.
Of more practical interest will be the promise of "significant improvements" to the upload and download speeds for synchronized folders, while cCloud now notifies the user via small pop-up windows by the Taskbar notification area when file uploads, downloads or syncs have been finished. Sadly there appears to be no way to disable these popups, which can soon become distracting.
The cCloud app also comes with the promise of an updated Notification area icon indicating file transfer speeds -- users must roll the mouse over the icon and wait while download and upload speeds are displayed.
Fixes in the new version include one that caused blue screens of death by the CBReparse.sys file and occasional high processor usage from the COSService file. The user's computer should no longer hang either when restarting. However the promise of a fix for occasional Explorer freezes didn't manifest itself on our test machine.
Existing cCloud users should note that the new cloud-based service means any existing data may not yet be visible in the new interface – this is in the process of being migrated over, and users can access it through their web browser via https://old.ccloud.com for now.
Existing users are also advised to uninstall older versions of cCloud or Comodo Backup before installing the new build, and that some issues -- documented here -- still remain.
Both cCloud 3.0 and Comodo Backup 4.3 are available as a freeware downloads for PCs running Windows XP or later. Free 10GB home and business user accounts are provided with paid-for upgrades offering plans from 20GB to 500GB with monthly or annual subscriptions also available. Free account holders are advised that they need to access their storage at least once every 90 days to prevent the account -- and its data -- from being deleted.