Apple officially launches the cylindrical Mac Pro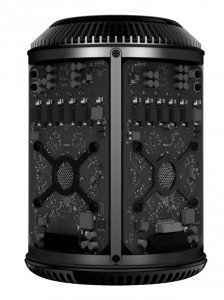 Historically, the Mac Pro has been a beast of a machine -- a giant footprint on the desks of professionals. When it was originally released in 2006, it became an iconic fixture among artistic professionals. However, it was not just the outward appearance that was so pleasing to consumers, it was the inside too.
When the first generation was released, I was working at CompUSA. The store had an Apple section with a dedicated representative -- a precursor to the Apple store and its geniuses. We would often open up the machine to show off the internals because it was just that amazing. At the time, the inside of a typical Windows machine was just a mess of wires and poor design. The inside of the Mac Pro was organized and well thought out. Today, in continuing with this tradition, Apple officially launches the all-new Mac Pro. While things change, they also stay the same.
"Designed around an innovative unified thermal core, the Mac Pro features the latest Intel Xeon processors with up to 12 cores, dual workstation-class GPUs, six Thunderbolt 2 ports, PCIe-based flash storage and ultra-fast ECC memory. Packing amazing performance in a stunning new design, the all-new Mac Pro starts at $2,999 and will be available in December", says Apple.
The company further says, "reinvented from the inside out, Mac Pro is designed to tackle even the most demanding workflows. The new Mac Pro features 4-core, 6-core, 8-core or 12-core Intel Xeon processors running at Turbo Boost speeds up to 3.9 GHz that deliver double the floating point performance of the previous generation Mac Pro. Two workstation-class AMD FirePro GPUs with up to 12GB of video memory provide up to seven teraflops of compute power and up to eight times the graphics performance of the previous generation Mac Pro".
In other words, this computer is a performance dynamo, but you must pay to play. Starting at $2,999 this computer is not by any means cheap. You may pay more for the new Mac Pro than you did for your first car.
While the shape and size of the computer has changed, the design philosophy has not. though, it is shaped like a garbage can (or rubbish bin in the UK), it is still sleek and sexy. And like the Mac Pros of years past, the computer is beautiful inside and out. You can tell that a lot of thought, design and engineering went into the cylindrical computer. Even though the internals are stuffed into a small case, it can still be upgraded with ease -- you can swap out the graphics card unlike the Mac Mini.
Is the new Mac Pro worth the money? Please tell me in the comments.