Following in Microsoft's footsteps, Apple is giving OS X 10.9 Mavericks away for free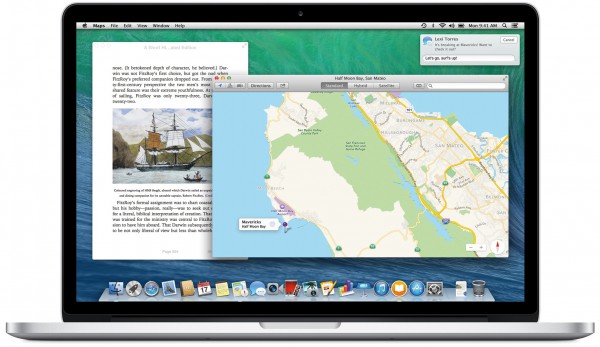 Starting today, Mac users are able to officially upgrade to OS X 10.9 Mavericks. However, instead of charging its customers for the newest Mac operating system, like the company did before, Apple is giving it away for free. If that sounds familiar, it's because it is. Microsoft is doing the same thing with Windows 8.1, which is also available as a free upgrade to all Windows 8 users.
"Mavericks is an incredible release, which introduces significant new apps and features, while also improving the performance and battery life of your Mac", says Apple senior vice president of Software Engineering Craig Federighi. "We want every Mac user to experience the latest features, the most advanced technologies, and the strongest security. We believe the best way to do this is to begin a new era of personal computing software where OS upgrades are free". Therefore, it should not come as a surprise if Apple chooses to adopt the same strategy for the next release of OS X, which will likely arrive next year.
According to Apple, OS X 10.9 Mavericks introduces "200 new features" but, as usual, there are no extensive details provided. Among the slew of revealed (and noticeable) changes, the Mac operating system now ships with iBooks and Maps (yes, that Apple Maps), two applications that were previously available only to iOS users.
OS X 10.9 Mavericks also adds iCloud Keychain, that can store account information and adjacent passwords in the cloud and sync the data across your compatible Apple-branded devices.
My favorite change from OS X 10.9 Mavericks is the improved multi-monitor support. Apple has fixed the current behavior that plagues OS X Mountain Lion -- scrolling between work spaces happens simultaneously on all displays -- by giving each display its own work space. The dock also moves to whichever display is active.
Apple has improved the Finder to include support for tabs and tags as well as the Calendar application (with estimated travel time between appointments and a weather forecast map), Safari (comes with Shared Links which aggregates info from LinkedIn and Twitter) and Notifications (users can respond to messages without opening them).
Apple also announced that OS X 10.9 Mavericks includes general performance and battery life improvements, thanks to "new core technologies".
As usual, OS X 10.9 Mavericks is available through Mac App Store.