Gramohorn II amplifies your HTC One in a retro-style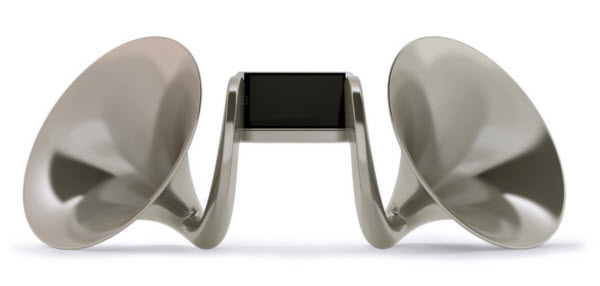 Phones are great for music, but in most cases the built in speakers are a bit subpar; quality might be decent enough, but if you're looking for a punch of volume, speakers are going to be needed. Or maybe not. If you're an HTC One owner looking for something a little different -- and have a wad of spare cash lying around -- the Gramohorn II could just be of interest. It brings not one, but two gramophone inspired horns to amplify your music without the need for power.
3D printing is all the rage, and the Gramohorn II is the latest accessory to be produced in this way. There are plaster- and metal-based versions available, but whichever one you opt for, you're going to need to have deep pockets. The plaster-based model is the cheaper of the two, but "cheaper" is very much a relative term. There are 22 color choices and five metallic finishes but only 100 will be produced.
There's a bit of a wait -- 3-4 weeks from ordering -- but if you're quick, there's still time to get one for Christmas. What's that? Oh, the price? Yeah… it's quite an expensive stocking-stuffer. This double horned beauty will set you back £999 (around $1,600). If you happen to be in the mood for spending even more money, the metal-based version could be what you're looking for.
Again this is 3D printed, but this time it is with a bronze-infused stainless steel powder. Gold, silver and bronze finishes are available, but there are only ten of each. There probably won't be too many people standing in line in front of you though, as the price tag is an eye watering £4,999 (a shade over $8,000). The horn is only available for the HTC One and only amplifies volume by up to 50 percent -- but it'll certainly be a talking point for guests!