IObit Uninstaller 3 adds browser plug-in removal and file shredding tools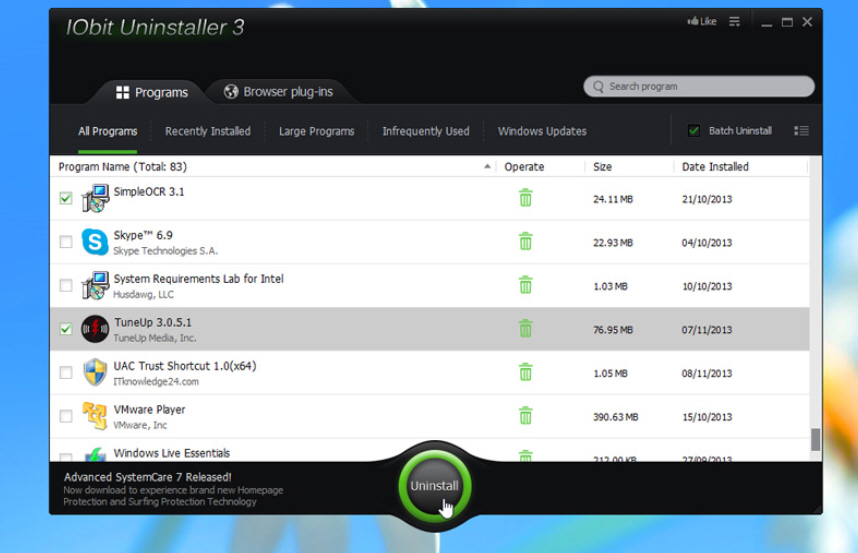 IObit has released IObit Uninstaller 3.0, a major, redesigned update of its application uninstall utility. Application uninstallers have never had much of a reputation for thoroughly cleaning up after the programs they're supposed to remove, which is where the likes of IObit Uninstaller come into their own, hunting down leftover files and Registry entries to offer a more complete removal.
Version 3.0 debuts a redesigned and simplified user interface, adds full support for Windows 8/8.1 and now incorporates browser plug-in removal functionality too alongside a number of more minor tweaks.
IObit Uninstaller 3.0 opens after installation to a completely redesigned interface, which follows the new user interface found in companion product IObit Advanced SystemCare Free and is aimed at making the program simpler to use and navigate.
Version 3.0 also adds a new browser plug-in removal tool, which supports Internet Explorer, Chrome, Firefox and Opera. Accessible from its own tab, users can filter the list by browser and then choose which plugins to remove. Plugins are rated for safety, while users can add their own reviews or manually "distrust" plugins to mark them for removal later.
In addition to the new browser plug-in management tool, users can now also restore a browser's default settings with a single click, and rate each plugin for other users' reference.
IObit Uninstaller 3.0 also debuts a new file-shredding tool for securely wiping data from the user's hard drive -- this is accessible via the program's menu button. It also now includes an option for manually checking for updates to the program.
In addition to providing new features, IObit Uninstaller 3.0 also tweaks its existing program removal tools for easier operation. Users can now set the "Powerful Scan" feature, which searches for leftover files and Registry entries after a standard uninstall is finished, to run automatically via the program's Settings dialog.
It also adds a couple of shortcuts to other parts of Windows. These allow users to access the program by either right-clicking a program shortcut or selecting a program in the Programs and Features Control Panel, then choosing the Powerful Uninstall option. Should the program be subsequently packaged as a portable installation, expect this particular functionality to be removed from that version.
The new version is rounded off with an improved user experience during the uninstall process, plus comes with the promise of improved reliability and security when using the Powerful Scan tool.
IObit Uninstaller 3.0 is available now as a freeware download for PCs running Windows XP3 or later.