openSUSE 13.1 is here!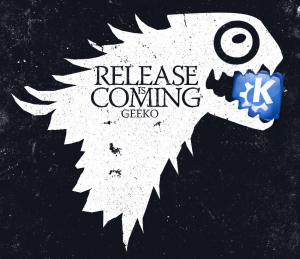 When it comes to Linux, I am very flaky. You see, I tend to never settle on a specific distro. While I always seem to end up on Fedora, I do tend to cheat. Yes, I am monogamous for the most part, but I can be found canoodling with Mint, Netrunner and openSUSE from time to time. The latter operating system is well-known for being rock-solid and well-supported. My wandering eye is always keeping tabs on the chameleon-logo distribution and today, there is big news.
"Dear contributors, friends and fans: The release is here! Eight months of planning, packaging, adding features, fixing issues, testing and fixing more issues has brought you the best that Free and Open Source has to offer, with our Green touch: Stable and Awesome", says Jos Poortvliet, community manager at SUSE.
Jos further says, "this release did benefit from the improvements to our testing infrastructure and much attention for bug fixing. While a combination of over 6000 packages supporting five architectures can never be perfect, we're proud to say this really does represent the best Free Software has to offer. The latest desktops (five of them), server and cloud technologies, software development tools and everything in between are included as well as a number of exciting, new technologies for you to play with. Enjoy".
While the complete list of changes is quite exhaustive, there are some rather notable major ones worth mentioning. The most apparent to end users is the desktop environments. While openSUSE is considered to be a KDE distro, and it is, Gnome is prominently supported too. KDE has been updated to 4.11 and Gnome to 3.10. While Gnome is a rather polarizing environment (you love it or hate it), I love it and am very excited to try 3.10 since Fedora 19 is still behind in that regard.
The shipping kernel is a very modern 3.11, which has the following notable features:
Improved page reclaim to increase responsivity under heavy IO
improved tracking of resources with accounting of kernel memory in the memory resource controller and detailed tracking of which pages a program writes
scalability improvements with NUMA policy redesign, timer-less multitasking, rwlock, mutex and SYSV IPC message queue changes
Introduction of Zswap, a compressed swap cache, improving performance when enabled on low-memory systems
Btrfs introduced stability and performance improvements, Ext4 embeds small files in inodes, XFS gained support for metadata and journal checksums. F2FS is a new flash-optimized FS
Preliminary support for NFS 4.2, the new TCP Tail loss probe algorithm to improve short transfer performance and a low latency network polling mechanism for servers.
O_TMPFILE open(2) flag for the easy creation of secure temporary files, expanded namespaces support and the "labeled NFS" ability which brings full support for SELinux on NFS
a new suspend power state for devices, experimental dynamic power management for all Radeon GPUs since r600 (disabled by default due to stability concerns)
The maintenance cycle on this release has been extended to a respectable three years, so you can be confident about support. If you are interested in trying the operating system, you can get it here.