Feenix Nascita 2014 gaming mouse and Dimora mousepad [Review]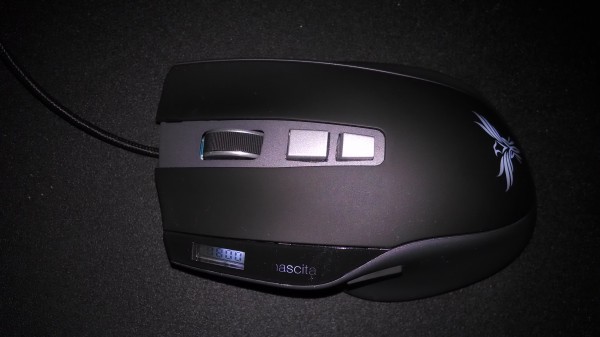 Whenever I buy anything, the old adage "you get what you pay for" is always with me. Whether it is a computer, a car or deli cold cuts, I am willing to spend more for quality. However, I do not just throw money around -- I prefer quality and value. Shoes are something I wear every day, so I am willing to spend a lot for comfort. In other words, I know where not to be cheap. Much like shoes, I use a mouse every day too. Sure, I can buy an inexpensive mouse, and it will be functional, but since I use it so much, don't I deserve the best? I think so.
I've been using a high-end mouse for a few weeks, the Feenix Nascita 2014. This is a peripheral from a relative newcomer to the industry -- Feenix Gaming LLC. Please read on, to learn of my thoughts and impressions.
Feenix Nascita Gaming Mouse ($97)
Upon receiving the box, I was immediately impressed with the outside packaging. You see, it is entirely white, save for a gray phoenix, which is the Feenix logo. Inside, the contents were sparse, seemingly intentional to put the focus on the hardware. And focus, I did -- the wired gaming mouse is jaw-droppingly beautiful.
You can tell that care and love went into the product. The USB connector is gold-plated, which is gimmicky, but so what. Feenix says the gold connector provides "unwavering digital transference". Do I think a gold connector on a digital device matters? For performance, probably not. However, for longevity, it should provide a long term quality connection.
The cable is of the braided variety and this is no gimmick. This prevents the cord from becoming tangled. I have appreciated braided cords in things like headphones for the same reason. It adds a level of class as well, and let's face it, while function is paramount, form is needed too. I like beautiful computer accessories.
Speaking of beauty, the Feenix logo is emblazoned on the mouse and lights up. While there is no way to turn this off, it is very subtle and will not distract you. In fact, I enjoy it as it looks beautiful and sexy. It is a conversation piece if anyone visits you.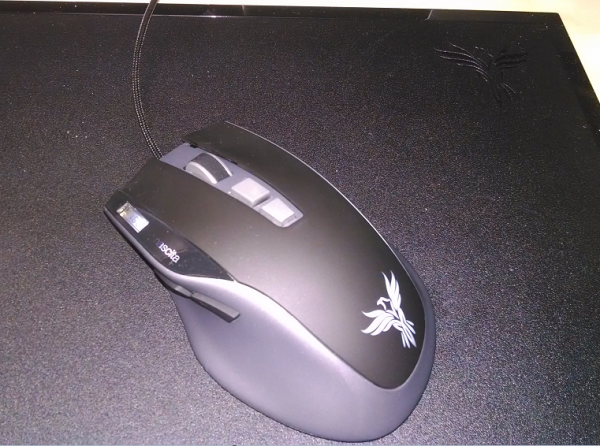 The feel of the mouse in my hand is wonderful, as not only is the shape ergonomic but the materials are soft and dreamy. Like I stated earlier, much like your feet to a pair of shoes, your hand is to a mouse -- heavy use.
On the left-hand side of the mouse, there are back and forward buttons. These can be used by default in your web browser to go back and forward. However, as this is a gaming mouse, you can also assign specific tasks to the buttons using the in-game options.
On the top, there is a vertical scroll-wheel, which sadly does not move horizontally. While many people do not use horizontal tilt-wheels often, I do for work in large Excel sheets. However, I can get by without it. Also on the top is an LCD screen which displays the current DPI, plus 2 buttons to move the DPI up or down (800 to 8200).
This is an impressive feature, which Feenix refers to as "driverless". In other words, the DPI is controlled directly by the hardware and not the software. This puts more power in the hands of the user and prevents large bloated software from being installed. While other mice may offer this too, they typically use LED lights to relay the DPI to the user. The LCD on the Nascita, is awesome -- it looks cool and is functional.
On the bottom, are two teflon feet, which add to durability and movement. Feenix even included replacement feet for the future at no charge. This is very much appreciated.
It is also worth mentioning that the company seems to be heavily focused on customer service. On the website, the company says, "All Feenix products are sold exclusively through our online store. Our boutique approach allows us to maintain the company's service and quality control standards. These standards include hand checked inspections for all our peripherals before they are shipped, as well as our commitment to providing personal support managers to all Feenix owners".
More impressive, is that each person that buys a Nascita mouse, gets a dedicated Client Service Executive. In the box is a thick index card, with the name of my executive, plus his email address, phone number and Skype name. It makes me feel special and well taken care of. My guy is named Chad, but I haven't needed to call upon him yet. Maybe I will message him on Skype if I get lonely.
Below are further specs of this mouse:
200 dpi Avago 9800 laser chipset
Avago lens
1 ms response time / 1000Hz Ultrapolling
12000 fps
150 ips
30g acceleration
114g net weight
Feenix Dimora Gaming Mousepad ($36)
To complement the Nascita mouse, Feenix has also released a heavy-duty mousepad. This hard-plastic pad, is designed for gaming with optimal tracking. However, in my testing, it works wonderfully for any purpose -- office work, surfing the web, etc. It allows the mouse to glide comfortably, which maybe your desk surface does not. In my case, I noticed a drastic improvement in glide, compared to my Ikea pressboard desk.
The length is 350mm and the width is 280mm. While not the largest mousepad I have seen, it does take up a good portion of your desk. I rather like this as it helps me keep my desk organized. Before having this mousepad, I would navigate my mouse around coffee cups, Perrier bottles and Pringles cans. Now, I've dedicated the surface area of the mousepad to be a mouse-only zone.
Conclusion
Both of these products are relatively expensive, so you must decide if they are worth it. I would ask, are you worth it? In other words, do you deserve an extremely comfortable, well-built mouse? Well, I cannot answer that for you. However, if you use a mouse all day for work and you are either a casual or hardcore gamer, I would venture to say you do. Highly recommended.