Nokia unveils Lumia 525 Windows Phone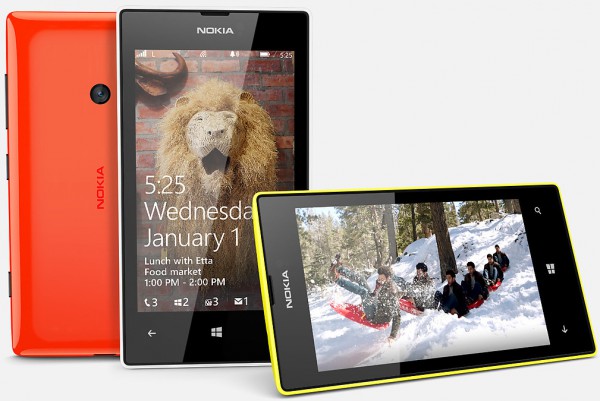 The Nokia Lumia 520 is a very good entry-level Windows Phone which is only held back by its measly 512 MB of RAM. This prevents the handset from being able to run all the latest games and apps and hinders its multitasking ability. Considering that it is among the best cheap smartphones on the market today, the low amount of RAM gets a pass. After all, something has got to give.
Today, Nokia announces the successor of the Lumia 520, called Lumia 525. The new Windows Phone solves the memory problem that affects its predecessor, as it ships with 1 GB of RAM. This will allow users to enjoy more resource-intensive apps and games, improve multitasking and make the device more future-proof than the older model.
Except the RAM change, the recipe remains largely unchanged. The Lumia 525 features a 4-inch IPS display with a resolution of 480 by 800, 235 ppi (pixels per inch) density and "super sensitive" touch (allows for glove operation). The device is powered by a 1 GHz dual-core Qualcomm Snapdragon S4 processor backed by a 1,430 mAh battery. There is also a microSD slot, on top of the 8 GB of internal storage, which can house memory cards of up to 64 GB in size.
Nokia quotes the internal battery as being able to deliver up to 10.6 hours of talk time on 3G networks, 5.9 hours of video playback or cellular browsing, or 7.5 hours of browsing via Wi-Fi.
Like the Lumia 520, the Lumia 525 does not feature a front-facing camera, making it a poor choice for those who rely on video-calling. The device does offer a 5 MP back-facing camera which can record 720p video at 30 FPS. Nokia's dedicated apps are available, including Smart Camera, Cinemagraph and Video Upload, among others.
The Lumia 525 comes with the usual connectivity options for a low-entry Windows Phone: HSPA+ cellular network support, Wi-Fi 802.11 a/b/g/n, Bluetooth 4.0, GPS with Glonass support and a number of sensors; a gyroscope is not included, just like on the Lumia 520, restricting access to apps like HERE City Lens.
On the software side, the Lumia 525 comes with Windows Phone 8 Update 3 paired with Nokia Black enhancements. Nokia's exclusive app collection is available, offering access to apps like Play to DLNA, PhotoBeamer, HERE Drive, HERE Maps, HERE Transit, MixRadio and Panorama, among others.
The Lumia 525 comes in at 119.9 x 64 x 9.9 mm and 124 grams. The device will be available in black, red, yellow and white color trims. There is no official word on pricing or availability at the moment, but Engadget says the Lumia 525 will cost around $180 when it goes on sale in December, in China.