Deck the halls -- Rdio unveils holiday stations, playlists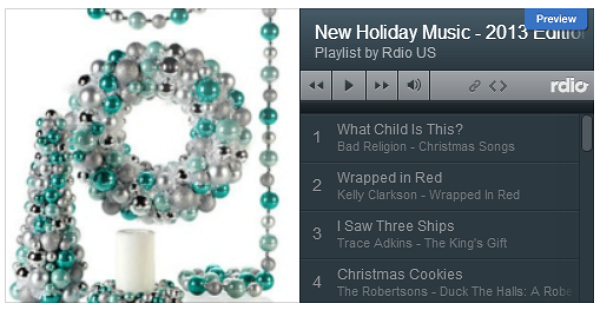 It's that time of year, when the temperatures dip and the snow begins to fall, well, depending on where you live. This is also the time of year when a few radio stations suddenly change formats, and you can't turn the dial without hearing Bing Crosby or Burl Ives. Streaming radio company Rdio is taking a similar approach.
The music service has announced its 2013 lineup of holiday stations and curated playlists to get you in the spirit. "All of your musical needs for the holidays can be found right here on Rdio", the company announces.
Included is all of the standard fare. There are various themed stations such as punk, country, celtic and traditional. There are hand-picked playlists, including holiday favorites and 2013 holiday music -- did you know Iggy Pop has recorded a song in this category? Rdio even has some complete 2013 compilation and individual artist albums.
The service also wouldn't mind if you gave it as a gift. "And if you're still looking for great presents for your friends and family, consider giving the gift of Rdio. You can set your Rdio gift certificate in any amount that you like, and whatever you choose will be the guaranteed way to make sure everyone gets exactly what they want for the holidays". Happy listening.