Bitrix24 rolls out more improved features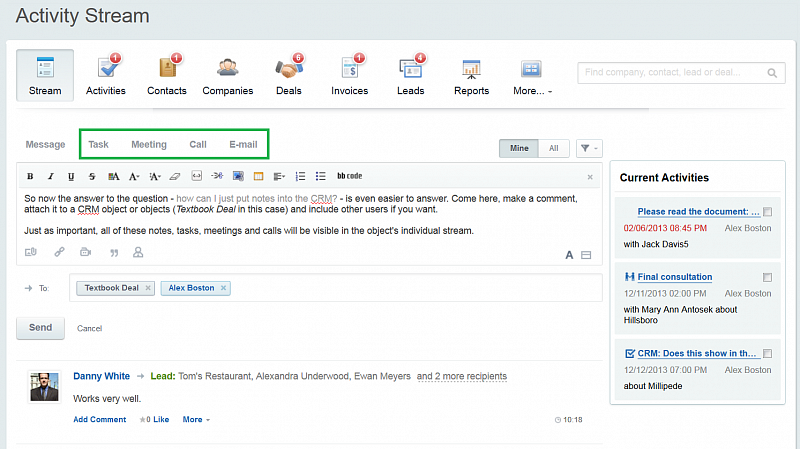 Bitrix24, the enterprise social network aimed at small and medium sized businesses, has released a new version of its cloud-based service.
Only three months on from the last release the latest version aims to improve telephony, CRM and collaboration features for its users.
The CRM part of the product now has its own activity streams along with new reporting tools for leads, managers and invoices. In addition web phone calls can now be made and recorded directly from a Bitrix24 account without any need of IP-telephony equipment or complex setup procedures.
There are improvements in productivity and collaboration tools too. The cloud storage feature Bitrix24.Drive can now handle company and group files as well as personal data. Companies that subscribe to the professional plan will also find that their storage is increased from 100GB to 1TB at no extra cost.
Project Management is now more tightly integrated with Time Management making it easier to track the time spent by employees on particular tasks. There's also a new warning system to alert managers to tasks that are in danger of not being completed on time.
Dmitry Valyanov, president of Bitrix Inc says, "This is the fourth major update of Bitrix24 this year, and this rapid pace of improvement is one of the reasons that we reached the milestones of both 100,000 company signups and 1 million total users this fall, growing even faster than Yammer before Microsoft's acquisition. Small businesses like the fact that they can now replace Yammer, MS Office, Salesforce, Dropbox, Basecamp and Skype with a single out-of-the-box solution that does all that they do and costs only a hundred dollars per month. Not only is it much cheaper, it solves a lot of interoperability, deployment, administration and shadow IT issues".
Bitrix24's new mobile app has an iOS 7-friendly design and an offline mode that lets users keep working even without a reliable intranet connection. The on-premise version has a new virtual environment that makes for easier deployment.
The product is available free for businesses with up to 12 users. Paid versions can be run in the cloud or self-hosted depending on your requirements. Visit the www.bitrix24.com website to find out more.