Microsoft announces the Surface Classroom Challenge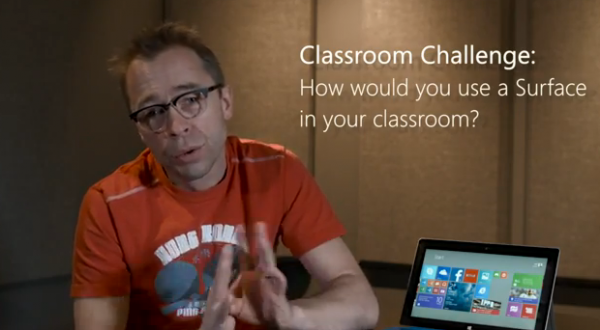 While the Surface line of Windows tablets are well-built and functional, they have not exactly set the world on fire. Consumers are still mostly opting for iPads and Android tablets. It's hard to blame them -- the app selections on these competitor platforms are more bountiful and robust. Not to mention, Surface gets more press over price reductions and billion-dollar write-offs than anything else.
However, there is one place where Microsoft's tablet is poised to make an impact -- the classroom. A Surface tablet with the type-keyboard attachment is a wonderful tool for both students and educators alike.
"Over the past summer we made a concerted effort to serve our Education customers through a Surface RT special education price. We saw an overwhelming response from this, and have gotten some great feedback from students and teachers about how they are using Surface in their schools [...] many of them have told us how it has completely changed the way they are teaching and learning in the classroom. But one thing that hasn't changed much over the past century, are classrooms themselves. We still see rows of desks lined up facing a wall, which isn't an ideal setup for Surface in the Classroom", says Microsoft.
The company further explains "we wanted to call on all of you to help us re-imagine the classroom. What would it look like if every student had a Surface as a learning tool? How would Teachers teach with a Surface? What kind of furniture, and accessories would they need? How can we make using Surface in the Classroom even better?"
In other words, these users of the Surface tablet are finding it to be a success. But sadly, this revolutionary, technologically-enhanced education experience is tainted by remnants of years past -- old crummy chairs and desks and overall boring surroundings. Microsoft has launched an official contest to remedy this, the Surface Classroom Challenge.
Microsoft would like anybody aged 14 years or older to submit their ideas on how to improve and modernize the classroom experience, while incorporating the Surface tablet. It is not clear why they are excluding children that are younger than 14 -- I am sure all children are capable of creating ideas. If you are interested, you could win a "cart full" of Surface tablets, to be distributed to the classroom of your choice. Please try your luck here.