PhraseExpress 10 debuts phrase searches, Outlook add-in, input validation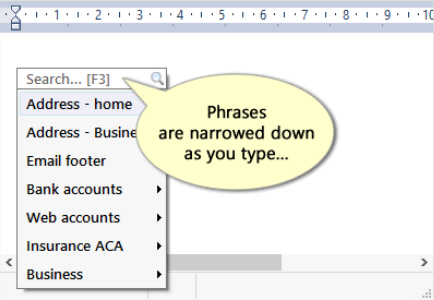 Bartels Media has announced the availability of PhraseExpress 10, its powerful text expansion and auto completion tool. The company describes the release as a "cornerstone", and that's not an overstatement: it's absolutely packed with major new features.
These start with the ability to search within a popup for whatever phrase you need. Forget shortcuts and hotkeys, they're no longer necessary; just trigger a popup, type a few characters, and matching phrases appear right away. Even if they're in a subfolder.
The popup and phrase search system has seen significant updates. Display performance is up to ten times faster; bread crumb navigation and scroll wheel support improves navigation; an option to highlight key phrases in color ensures they're easy to spot; and new customization options mean you can tweak the menu font, size, and more.
Formatted text has been extended with the option to add interactive WYSIWYG formats, including input fields, dropdown menus, date pickers and checkboxes. User input can be validated to reduce the chance of errors, and macros now work in formatted phrases, too.
The new PhraseExpress Enterprise edition includes an Outlook add-in which analyses incoming mails, then offers intelligent auto-complete suggestions based on their context. At its simplest this might just automatically greet the sender with the name used to sign off their email, but it can also provide tailored responses to particular keywords (a product name, say).
Other enhancements include easier data import, more convenient phrase creation, SQL Server support and simplified licensing (no version license, just a 1, 3 or 5 year maintenance term; don't worry, the license itself never expires).
There's plenty we've not yet mentioned, too, but you get the core message: it's an excellent update, and a must-see if you're interested in this type of tool. Especially as the base version remains free for personal use. PhraseExpress 10 and PhraseExpress 10 Portable are available now.